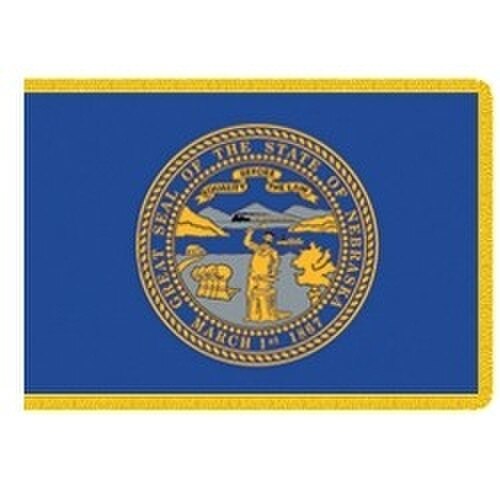 Details
Indoor Nebraska flags showcase the great flag of the state of Nebraska in your home, office, building, church, school or location. These beautiful flags feature bold colors and fray-resistant seams. Indoor flags are available in two sizes. For more information about our Indoor Nebraska flags, see the description tab below.
Indoor Nebraska flags are crafted in both Beacon® Nylon and showcase bold, bright colors and exquisite lock stitching. All indoor flags are finished with a lined pole sleeve along the left side and plush, traditional gold fringe around the three remaining sides. Indoor Nebraska flags are available in two sizes: 3'x 5' and 4'x 6'. Both flags display perfectly with our exclusive Majestic® Telescopic Pole. The 3'x 5' Nebraska flag fits most 8' indoor/parade poles while the 4'x6' Nebraska flag exhibits best with a 9' indoor/parade pole.
Carrot Top has over three decades of experience providing the highest quality flag, custom and patriotic products. Our selection of American flags includes several sizes and fabrics. Our Patriarch® Polyester American flag and our Beacon® Nylon American flag are two of the best all-around and all-weather flags available. Carrot Top also supplies NFL team flags and show your support for the University of Nebraska Cornhuskers with an NCAA College Sports flag.