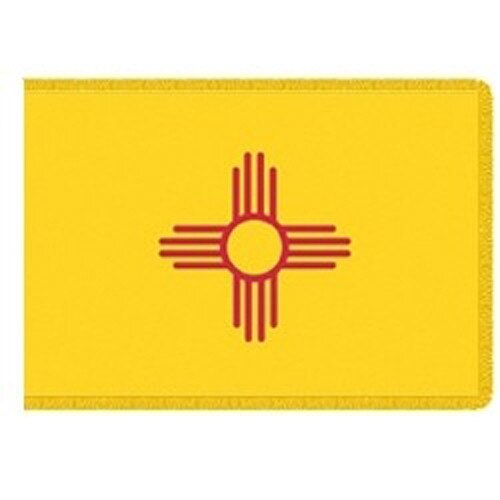 Details
Indoor New Mexico flag showcase that state's beautifully colored and uniquely designed flags. These flags are designed with a lined pole sleeve along the left side and plush, traditional gold fringe around the three remaining sides. Indoor New Mexico flags have exquisite, reinforced stitching that prevents fraying and bold colors that resist fraying. For more information about our Indoor New Mexico flags see the description tab below.
Indoor New Mexico flags are fashioned with our Beacon® Nylon and are available in two sizes: 3'x 5' and 4'x 6'. These flags are made with super tough, lightweight nylon that flies effortlessly in the slightest breeze. The 3'x 5' New Mexico flag fits and displays best with an 8' indoor/parade flagpoles in spaces with at least an 8.5 ceiling clearance. The 4'x6' New Mexico flag pairs best with a 9' indoor/parade flagpole. Both flags create splendid displays with our exclusive Majestic® Telescopic Flagpole.
Carrot Top proudly supplies wide range of custom, flag and patriotic products. Our American flags are available in a wide variety of sizes and fabrics and include our Patriarch® Polyester American flag and our Beacon® Nylon American flag. Carrot Top also has flags from US cities, Mini American flags, and Mini New Mexico flags.