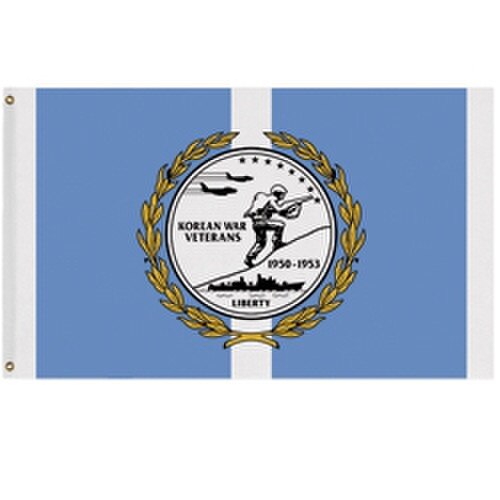 Details
The Korean War Veterans flag is a great way to show your support for the troops that served in the Korean War from 1945 to 1950. The Korean War veterans flag, also known as the KWV flag features a light blue background with the Korean War veteran insignia in the center.
These Korean War Veteran flags measure 3'x5' and are made of nylon for long-term outdoor use. The flags are fitted with a header and grommets to allow them to be attached to an outdoor flagpole's halyard. For more information about the KWV flag, see the description below.
The Korean War Veterans' flag features a light blue or sky blue background with a white vertical stripe running the length of the flag in the center. The flag also features the Korean War Veterans' insignia in the center. This crest consists of a white circular background with representations of soldiers in the air, on land and in the sea. The years 1950-1953 are printed on the flag to signify the start and end of the Korean War.
The Korean War Veterans flag is an ideal giveaway to honor a retired soldier or veteran and to thank him or her for their sacrifice and courage. See our other memorial products as well. Carrot-Top proudly offers yellow ribbon products, official military flags, exclusive support our troops flags, POW MIA and KIA flags. Couple any of these flags with an American flag for a complete and proud display. For more information, please fill out our contact us form, and one of our Flag Pros will be in touch with you!