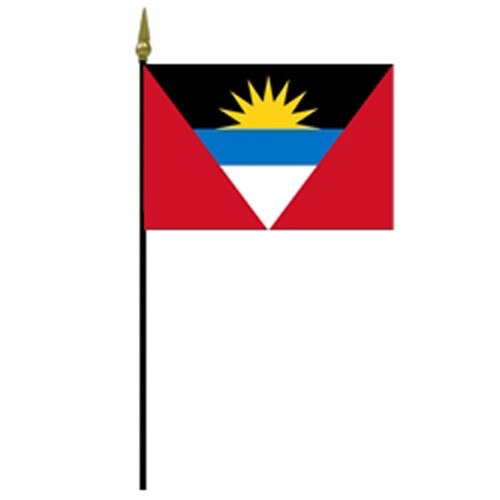 Mini Antigua & Barbuda Flag
Details
HOW TO ORDER CORRECT QUANTITY FOR 4" X 6": QTY 1 = 12 FLAGS. OTHER SIZES SOLD INDIVIDUALLY.
Mini Antigua and Barbuda flags feature bold, beautiful colors that reflect the landscape history and hope of the island nation. These hand-held flags are perfect for any number of events like parades, holidays and state celebrations. Mini flags also create dynamic table displays that look great on shelves and desks or even in your car. Our Miniature flags make great tokens of heritage you can affordably share with friends and family at home or abroad. For more details about our Mini Antigua and Barbuda flags see the description tab below.
Our 70 denier nylon Mini Antigua & Barbuda flags are fashioned with a plastic black staff or dowel and topped with a gold colored spearhead. These flags measure 4"x 6" with a staff size of 10" x 3/16". Mini flags may be displayed with any of our wood table bases or carried to any events or celebration. Our miniature Antigua 8"x12" flags come mounted on a black wooden staff and have a gold plastic spearhead.
Carrot-Top's selection of flags includes international flags from nations around the world as well as specialty and novelty flags. Choose from State and city flags, historical flags, religious flags, and sports flags to select a flag that reflects your interests, faith, pride or heritage. Our American flags are some of the finest flags obtainable and include our Beacon® Nylon American flag and our Patriarch® Polyester American flag. For further details, please fill out our contact us form and one of our Customer Care Representatives will be in touch with you.