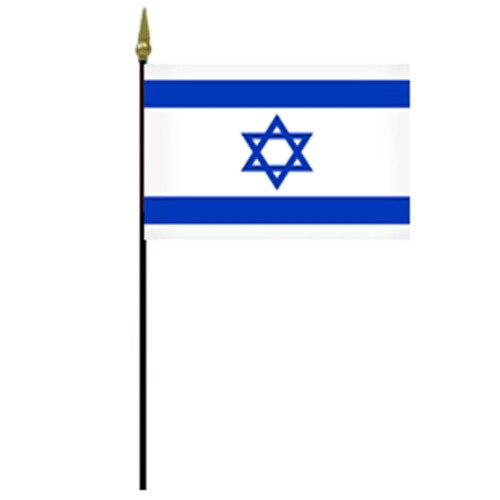 Details
HOW TO ORDER CORRECT QUANTITY FOR 4" X 6": QTY 1 = 12 FLAGS. OTHER SIZES SOLD INDIVIDUALLY.
Mini Israel flags feature beautiful bright, vivid colors and excellent craftsmanship. These 70 denier nylon flags make perfect gifts for holidays and celebrations throughout the year. For more information about our Mini Israel (or Zion) flags see the description tab below.
Mini Israel flags are fashioned with the superior materials and reinforced lock stitching on all four edges to increase longevity and extend use of the flag. These flags depict a blue hexagram or Star of David on a white background between two horizontal stripes. Flags are mounted onto a black staff with a gold colored spear top. Black wood table bases are also available. Mini Israel are available in two sizes, 4" x 6" and 8" x 12".
Carrot-Top offers a full range of products including custom items, patriotic décor and flags. Our American flags are available in several varieties including our Beacon® Nylon American flag and Patriarch® Polyester American flag. These exclusive Carrot-Top flags are two of the finest flag obtainable and are noted for their strength, artistry and durability. US State and City flags are also available to display the symbols your religious faith and state pride together. Carrot-Top also fashions custom products like custom signs and tents and decals. Our graphic artists are skilled in replicating your artwork, logo and images. For further details, please fill out our contact us form and one of our Customer Care Representatives will be in touch with you.