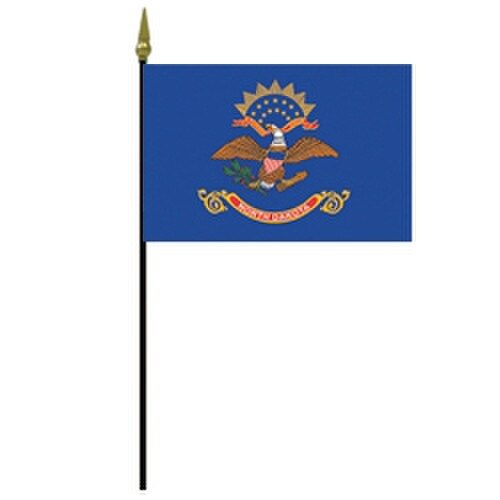 Mini North Dakota State Flags
Details
HOW TO ORDER CORRECT QUANTITY FOR 4" X 6": QTY 1 = 12 FLAGS. OTHER SIZES SOLD INDIVIDUALLY.
Mini North Dakota flags are made with the highest quality materials and feature intricate craftsmanship. These flags are perfect for all types of events and they also make great gifts for friends, family co-workers and others. Mini flags are available in two sizes. For more information about Mini North Dakota flags see the description tab below.
Mini North Dakota flags are available in three sizes, 4x6", 8x12", and 12x18". The 4" x 6" & 8" x 12" flags are 70 denier nylon material mounted on black staffs. The 4x6" mini flag has a staff that measures 10" x 3/16" while the 8x12" mini flag has a staff size of 18" x ¼". The 12" x 18" polyester flags are mounted on a 30" x 5/16" wooden staff with a gold spear top. A 1 hole wood table base is also available to create a cool mini display with the 8" x 12" flag.
Carrot Top offers a wide range of products that includes custom products, flags and patriotic items. Our American flags are some of the finest flags available and include our Patriarch® Polyester American flag and the Beacon® Nylon American flag. Carrot Top also provides flags of US Cities, NCAA College Sports flags and NFL team flags.