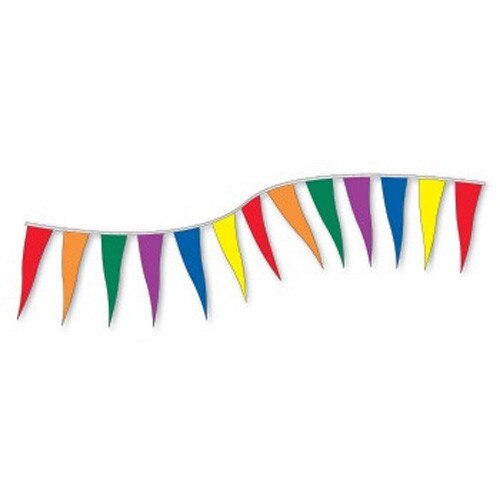 Colorfest Slim Pennant Strings - 8 Mil
Details
Our colorfest slim pennant strings feature multi colored pennant flags that have a base width of 6" (most other pennants have a base measuring 12"). These pennants make for a new look pennant string that is guaranteed to attract attention.
The colorfest slim pennants are designed for long term outdoor use and are known to last for several months when displayed continuously. The strings are available in 25', 50' and 100' lengths to fit your needs. For more details about this product see the description below. To order select a size, enter a desired quantity and click on the "Add to Cart" button below.
The colorfest slim pennant string are ideal for any outdoor event. These pennant strings can be hung at your sale event, outdoor market, car sale or any other special occasion to attract people passing by. These heavy-duty pennants are made of 8-mil polyethylene also known as Gator Hyde™. This flag fabric is one of the most durable materials and is 8 millimeters thick. The 8-mil pennants are also double stitched and have a sag resistant design that makes for a product that can last several months in outdoor all-weather displays.
The colorfest slim pennants measure 6" in width and 18" in length. The 25' long string is able to hold 20 pennant flags per string, the 50' string holds 40 and the 100' string holds 80 pennants. All the heavy duty slim pennants are colored brightly in fluorescent colors to provide a striking display. The pennants are colored in orange, green, purple, blue, yellow and red. They alternate in colors to create an even more attention grabbing product. The strings are also available in a red, white and blue color theme upon request.
See the entire collection of pennant strings to find similar products that might suit your needs better. We also carry several different kinds of advertising flags and street banners that are perfect for attracting crowds and informing people are passing by.