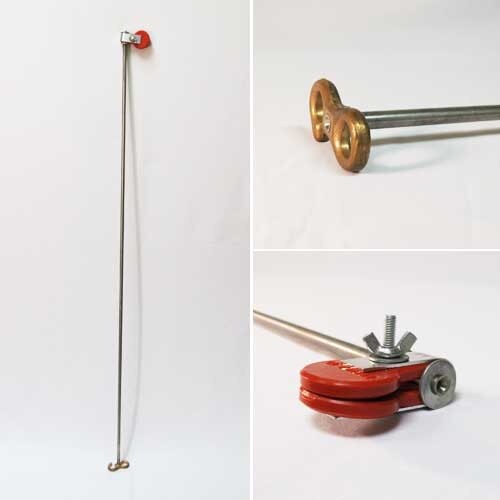 Non-Tangle Rod - 3X5' To 8X12' Flags
Details
Our Non Tangle Rods prevent flags from wrapping around flag pole and becoming tangled. These rods ensure that your flag display is perfect and beautiful.
Our Non Tangle Rods fit flags 3'x 5' and larger for display on any outrigger commercial flagpole
This flag pole accessory guarantees your flag waves beautifully in the wind
Rods are stainless steel and resist weather elements
Vinyl clamps allow for easy attachment and removal
Select the Rod that fits the size of your flag.
These non-tangle rods are made with the super strong stainless steel and durable vinyl clamps. This easy to install flagpole accessory is designed to prevent flags from wrapping around commercial outrigger style flagpole. These stainless steel rods fit flags 3'x 5' and larger.
Carrot-Top fashions a broad array of outdoor flagpole parts as well as indoor flagpole parts. Our collection of flagpoles includes indoor and parade flagpoles and outdoor flag poles. Be sure to shop our fine assortment of superior American flags in a variety of size and fabrics. Our Beacon® Nylon American flag and the Patriarch® Polyester American flag are two of the finest flags obtainable anywhere. For further details, please fill out our contact us form and one of our Customer Care Representatives will be in touch with you.