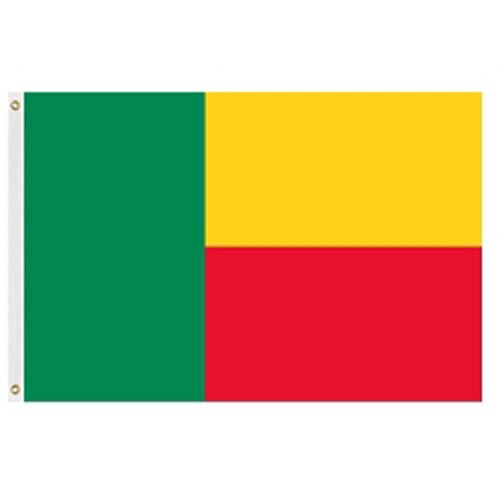 Details
The outdoor Benin flag is strong and light weight flag that can be used in all-weather conditions. These flags are compatible with most outdoor flag poles and can be easily installed on an existing flag pole with the use of the fitted header and grommets.
Outdoor Benin flags are available in 4 sizes; 2'x3', 3'x5', 4'x6' and 5'x8'. For more information about these flags see the description tab below. To order a flag select a size from the drop down menu below, enter the quantity required and click the "Add to cart" button.
Outdoor Benin flags are designed for use with outdoor flag poles. These flags are ideally built for all-weather conditions in location with moderate winds. The nylon Benin flag is light weight and flies easily with a breeze. The fabric is water resistant preventing any water absorption and providing a full and unfurled flag display when the flag is wet.
Our outdoor Benin flag features a unique design with the whole flag consisting of three rectangles colored in green, yellow and red. The green stripe is placed vertically at the hoist end (inner end) of the flag. The other two rectangles are placed horizontally extending away from the green stripe. The yellow rectangle is placed above the red one. The green, yellow and red colors are recognized as traditional Pan-African colors. As stated in the national anthem of Benin, the color green on the flag represents hope in revival, the red represents the courage of their ancestors and yellow stands as a symbol for the country's wealth and riches.
See the indoor Benin flag for display in indoor settings and for use in parades. Pair an outdoor Benin flag with one of our commercial or residential outdoor flag poles and pick out a set of outdoor flag pole accessories to complete the flag display. Browse through our collection of American flags, custom products and property management items to fulfill your needs. For further details, please fill out our contact us form and one of our Customer Care Representatives will be in touch with you.