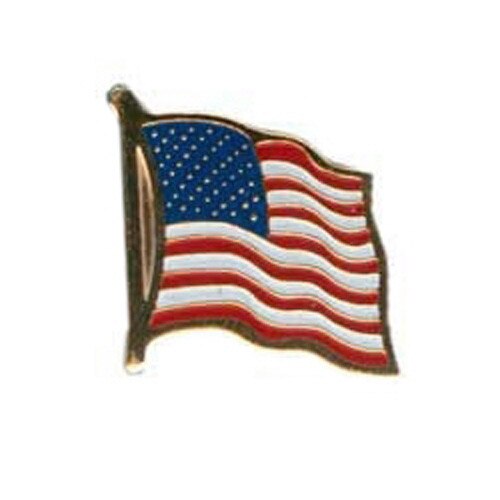 Details
Our US flag Lapel pins are one of the simplest ways to display your patriotism and honor our nation. Fashioned with bright colors on a yellow gold colored background, these Waving American flag pins are perfect for any occasion including church, school, picnics, parades, cookouts and more. US flag Lapel pins are a choice that will display your patriotism for years. For more information about our U.S. flag Lapel Pin see the description tab below.
Our US flag Lapel pins are the perfect way to show your support and patriotism for our great nation. These US flag lapel pin measure 1" from point to point and features a waving American flag. Each pin is fashioned with a clutch back which secures the pin. They are perfect for political events, patriotic outings or everyday use. Priced economically, the pins are great for the entire family, friends, co-workers and every American. The US flag lapel pin is a must wear for patriotic holidays like the 4th of July, Memorial Day, President's Day and Veterans' Day/ They are perfect for giveaways, fundraisers and keepsakes. Quantity discounts are available.
Carrot Top is a proud supplier of patriotic products for every event and occasion. Our American flags are available in a variety of sizes and fabrics. Our Patriarch® polyester American flag, a Carrot Top exclusive, is the best all- around flag available. Our Beacon® nylon American flag, also a Carrot Top exclusive, is the most versatile flag available. We also provide state and city flags and flags from all military departments and branches. Our customer service representatives have over three decades of experience and are eager to assist you. Please fill out our contact us form and one of our Customer Care Representatives will be in touch with you regarding any questions you may have!