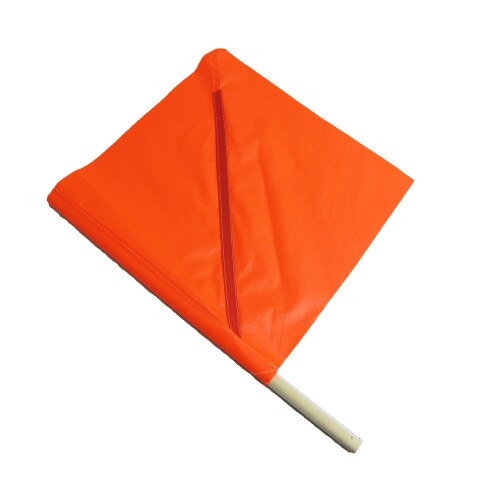 Vinyl-Coated Nylon Safety Flag
Details
Our Vinyl-Coated Nylon Safety Flags are optimal for providing attention and direction in construction and school zones, as well as in any location that passersby would need to be alerted for their safety. The fluorescent, orange material allows for maximum visibility while the stiffener affords you a rigid form. To order this vinyl-coated safety flag, please enter your desired quantity below and click the "Add to Cart" button. For more information, see the description tab below.
This Vinyl-Coated Nylon Safety Flag measures 18x18" and are mounted onto a 24" x ¾" wooden dowel. This size is ideal to allow yourself to be seen as well as the public to be alerted to restricted or defined areas. Made of vinyl-coated nylon, this flag will withstand most weather elements. The 24" wooden dowel will afford you the added option of holding the flag to direct traffic or you may affix the dowel to a structure with our cost-friendly silver bracket (sold separately) for hands-free yet temporary use. The plastic stiffener will assist with keeping the flag rigid for greater noticeability and reduce the possibility of tangling.
As well as safety flags, Carrot-Top also offers a wide array of styles of outdoor United States flags are also available through Carrot-Top Industries. Our Beacon® Nylon and Patriarch® Polyester American flags are the best available for light to moderate winds and more extreme weather environments, respectively. For more information on this safety flag or other available styles, please contact us today.