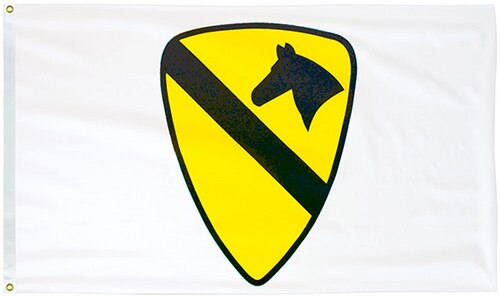 1St Cavalry Division Flag
Details
The 1st Cavalry Division flag features a triangular Norma shield with rounded edges. The triangle has a black diagonal line inside extending from the top left of the shield to the bottom right of it. The 1st Cavalry division flag also features a black horse's head in the upper right corner.
Our 1st Cavalry division flag measures 3'x5' and is finished with a header and grommets for attaching to an outdoor flagpole. For more information about the 1st Cavalry Division flag refer the description tab found at the bottom of this page.
The 1st Cavalry division flag feature the division's insignia, a yellow and black triangular shield. The color yellow was the division's original color and still persists as part of the official insignia. The horse's head is symbolic of the Cavalry's original make up. The color black represents iron for the transition that the Cavalry made to tanks and armor. The diagonal stripe represents a sword for military honor and symbolizes movement "up the field" and signifying attack. The insignia was originally approved as a shoulder sleeve insignia for the 1st Cavalry division in January 1921.
Our 1st Cavalry Division flag is made for use with outdoor flagpoles and features a canvas header and grommets. The grommets allow for a snap hook to be used to attach a flag to halyard rope. Grommets also allow for easy installation and removal of a flag. The flag is stitched on all four sides to prevent fraying. For more information about our 1st Cavalry Division flag or any other products please fill out our contact us form and one of our Customer Care Representatives will be in touch with you!
All information about the insignia above was sourced from the information provided by the Institute of Heraldry about the 1st Cavalry Division insignia.