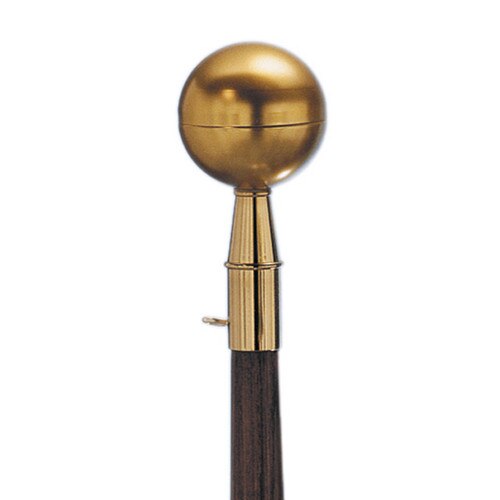 Gold Ball Top Flagpole Ornament
Details
The gold ball top flagpole ornament is one of the most commonly used flagpole ornaments used in indoor and outdoor flagpoles. The Flagpole ball top comes with a gold finish and pairs perfectly with our indoor gold fringed flags and gold finish flag stands.
The gold ball top is designed to fit all of our indoor flagpoles and parade poles. Read the description tab at the bottom of the page.
The gold ball top flagpole ornament is often used in indoor and outdoor flag displays. The ball top measures 3" and has a gold anodized finish. These ball tops go through a chemical painting process which leaves the aluminum anodized. Anodized aluminum is stronger and more durable than regular aluminum, and will resist pitting.
Like most of our other indoor flagpole ornaments the ball top comes with an adapter ferrule that allows it to be fitted on to any of our indoor and parade flagpoles. To attach the ball top simply slide the ferrule over the pole and finger tighten the screw or remove the ferrule and screw the ornament directly into the top of our Majestic™ indoor flagpole.
These ball top ornaments are intended for use in long term indoor displays and are not recommended for outdoor use. The ball tops can however be used for short term outdoor displays and events in dry weather.