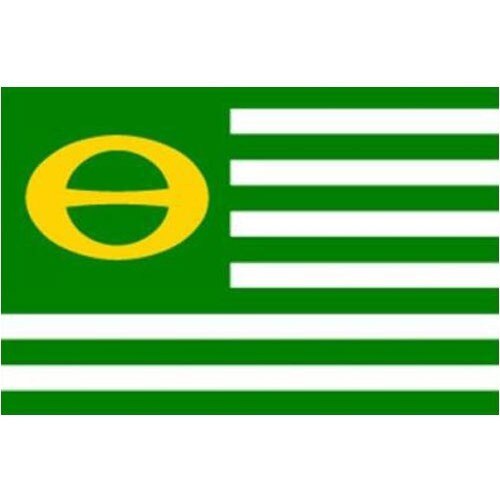 Details
Our Ecology flags are the primary cultural symbol used by environmentalists. The symbol of the flag was first published in 1969 and was later placed on a flag by "Look" magazine in 1970. Our Ecology flags are made with superior nylon and exquisite stitching. These flags are available in two sizes and are best suited for display in areas with mild to moderate winds. Get your Ecology flag now by choosing your size, entering the desired quantity, and clicking "Add to Cart". For more information about our Ecology flag see the description tab below.
LIMITED QUANTITY AVAILABLE
Ecology flags are a great way to show your support and love for the environment. These flags are available in 2' x 3' or 3'x5' and showcase colors which represent "the pure air and the green land". The flag also displays the sign for the Greek letter ÆŸ (Theta) which is formed by combing the letter "e" for environment and "o" for organism. Theta also means death which reflects the threat that humanity poses for the environment and atmosphere of the earth. The flag is patterned after the U.S. flag by having 13 stripes which alternate in color from green to white. The ÆŸ sign is in the canton of the flag where stars would be.
Carrot-Top has a long tradition of supplying the finest products and flags. Our custom products include banners, floor mats, flags, and more which may all be recast with your company or organization's logo, artwork or message. Carrot-Top also provides American flags in every size and fabric. Our finest flags include our exclusive Beacon® Nylon American flagand out Patriarch® Polyester American flag. For further details, please fill out our contact us form and one of our Customer Care Representatives will be in touch with you.