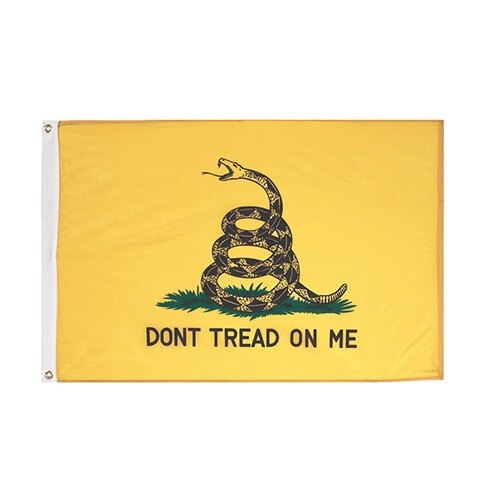 Gadsden Flag - 3X5 FT. Nylon Don't Tread On Me Flag
Details
Full Product Details of our 3x5 Ft. Don't Tread on Me Flag:

Sometimes called the "Don't Tread On Me" flag, the historical Gadsden Flag dates back to Revolutionary times. Our 3' x 5' Nylon Gadsden Flag is ideal for outdoor use!

3' x 5' 200 denier nylon flag

UV-resistant fabric is treated to resist fading in sunlight

Nylon fabric is lightweight, flies in a slight breeze

Two rows of stitching at top and bottom, four rows at fly end to resist fraying

Single-reverse design is digitally printed to display properly on one side, reverse on other

Canvas header, brass grommets for display

Proudly Made in U.S.A.



Why Buy a 3' x 5' Nylon Gadsden Flag?

The historical Gadsden flag, created by Colonel Christopher Gadsden of South Carolina, served as the Continental Marines' standard during the American Revolution. It was a well-known symbol whose terrifying rattlesnake pattern was used in numerous forms throughout the years. It was also known as the "Don't Tread On Me" flag.

Made from top-quality UV-resistant nylon, Carrot-Top's 3' x 5' Nylon Gadsden Flag is suitable for outdoor use in light to moderate winds. Its digitally printed design is single-reverse, meaning it will show correctly on one side but reversed on the other.

Extended History of Gadsden Flag

The flag was created in 1775 during the American Revolution and is named for statesman Christopher Gadsden (1724–1805). Along with the Moultrie flag, it served as an early motto banner for the Continental Marines. Its design screams out a resolute call to vigilance and the readiness to defend oneself against coercion. Due to this, it has come to be connected with the concepts of liberty and individualism. In the United States, it is frequently used as a symbol for right-libertarianism, classical liberalism, and small government. It is also frequently appropriated by right-wing populism or far-right ideology.

Before Esek Hopkins was appointed Commodore of the Navy, General George Washington founded the Continental Navy in the fall of 1775 while serving as Commander in Chief of all Continental Forces. The Continental Army was severely undersupplied in the early years of the American Revolutionary War; therefore, those first ships were deployed to intercept inbound cargo ships providing war supplies to the British in the colonies. For the Navy's first mission, the Second Continental Congress gave the order to gather five companies of Marines.

One of the seven members of the Marine Committee that outfitted the first naval mission was Continental Colonel Christopher Gadsden, who represented his native state of South Carolina. The first Marines enlisted in Philadelphia and carried drums painted yellow with the inscription "Don't Tread on Me" and a rattlesnake coil with thirteen rattles. The symbolism of the future Gadsden flag is first mentioned in writing here.

Gadsden sent Commodore Esek Hopkins, the newly appointed chief of the Navy's staff, a yellow rattlesnake flag to use as the distinguishing personal standard of his flagship before the first mission's departure in December 1775. Prior to being chosen to lead the Navy, Hopkins was the commander of The United Companies of the Train of Artillery of the Town of Providence, which flew a similar flag. The flag served as a warning to Great Britain to respect the rights of its people. However, by the end of 1775, particularly after the Prohibitory Act, many American colonists began to view themselves as autonomous individuals with the freedom and the right to revolution rather than as subjects of The Crown. The acceptance of the flag was aided by these quickly spreading convictions.

A replica of this flag was also given by Gadsden to the Congress of South Carolina at Charleston, South Carolina. On February 9th, 1776, the following was noted in the South Carolina legislative journals: Col. Gadsden gave the Congress an exquisite flag that the commander in chief of the American Navy will wear. It has a yellow background with the words "Don't tread on me" underneath a vibrant image of a rattlesnake that is poised to attack.

Let Carrot-Top Customer Care Team Help You Today!

Pair your Gadsden flag with an American flag today! The Beacon® Nylon and Patriarch® Polyester brands of our premium range of American flags come with an unrivaled 6-month warranty against flaws, fading, or tearing. Additionally, we have a wide range of American flags for sale from other leading manufacturers in the sector, such as Annin, Valley Forge, and Eder Flag.

Looking for other historical flags? Look no further! Carrot-Top is proud to offer Betsy Ross flags amongst other historical American flags!

Flags designed by Betsy Ross have a history that is as old as our country and is a true representation of freedom and independence. We provide flags made of sturdy nylon, cost-effective poly-knit, and thick cotton. The majority of our larger flags may be displayed both indoors and outside, and they go great with the current American flag.

With historical U.S. flags from Carrot-Top, commemorate the history of our country! There are many different shapes and sizes available, some dating back to the very beginning of the United States. Whether you're searching for a Grand Union flag—which has no stars at all—or the 15-Star Fort McHenry flag with its 15 stripes, each of these designs offers an intriguing glimpse into American history and pays tribute to a particular moment that helped shape the country we have today.

Contact us today for assistance! Our Customer Care Representatives are eager to help you.