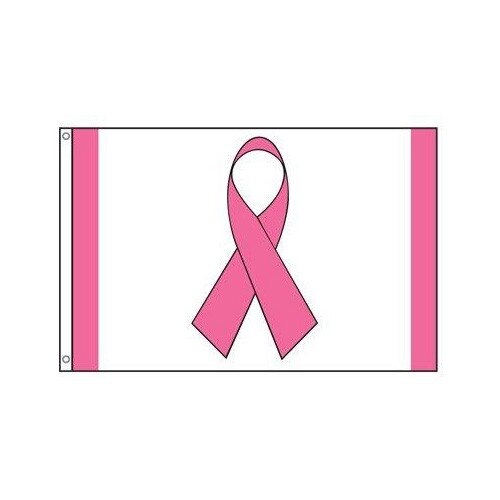 3' X 5' Pink Ribbon "Breast Cancer Awareness" Flag
Details
October is Breast Cancer Awareness Month, and people everywhere are more engaged than ever when it comes to this dreaded disease. Carrot-Top's 3' x 5' Pink Ribbon "Breast Cancer Awareness" Flag isn't just for October, however.
Show your support for those lost, and for the fight for a cure
3' x 5' flag is 200 denier nylon with acid-dyed printed logo
White background with pink ribbon logo in center, thick pink stripe at ends
Double rows of stitching, reinforced fly end
Canvas header and brass grommets
Proudly Made in U.S.A.
Why Buy a 3' x 5' Pink Ribbon "Breast Cancer Awareness" Flag?
Breast Cancer Awareness Month was introduced in 1985, with the aim of promoting mammography as the most effective weapon against this disease. Since then, this cause has blossomed to include events around the world.
Carrot-Top's breast cancer flag features the familiar pink ribbon logo, acid-dyed onto high-quality nylon fabric. The flag is finished with a canvas header and brass grommets for ease of display, with two rows of stitching and a reinforced fly end to resist fraying.
Questions? Please fill out our contact us form and one of our Customer Care Representatives will be in touch with you!