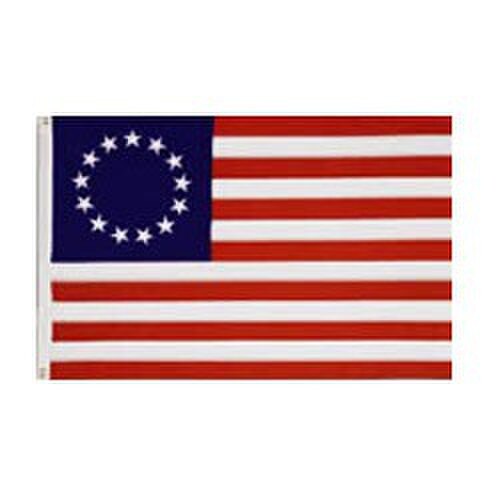 3' X 5' Printed Poly-Knit Betsy Ross Flag
Details
Show your patriotism and respect for the flag's legacy with the 3' x 5' Printed Poly-Knit Betsy Ross Flag from Carrot-Top.
100% poly knit material
13 star flag is accurate reproduction of Betsy Ross's design
Fly end with four rows of stitching to prevent unraveling and fraying
Two rows of stitching across the header
Lightweight material flutters and flies in even a slight wind
Canvas header with brass grommets
Why Buy a 3' x 5' Printed Poly-Knit Betsy Ross Flag?
Legend attributes the origins of the American flag to Revolutionary War-era seamstress Betsy Ross. Ross is said to have come up with the idea of five-pointed stars, as the original six-pointed star design was too labor-intensive to cut and sew. The 13 stars in a circle represent the original 13 colonies; in European heraldry, the shapes and number of points to a flag's stars carried various meanings. Writers of the time noted that "white signifies purity and innocence; red, hardiness and valor, and blue signifies vigilance, perseverance and justice."
Carrot-Top's 3' x 5' Poly-Knit Betsy Ross Flag is a printed design, making it ideal for outdoor use. It's a great choice for the history buff or flag buff in your life.