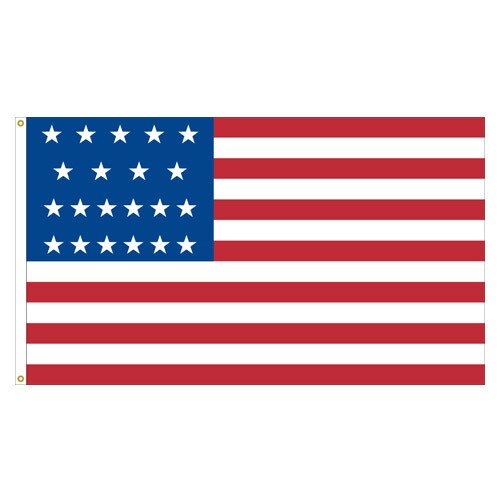 Details
The 3x5' Nylon 21 Star flag is a great way to represent and celebrate the admission of Illinois into the Union.
Constructed with durable nylon for long-term, outdoor use
3x5' size will work well with most flagpole displays
Perfect for historical celebrations or Illinois-specific events
Strong canvas heading and brass grommets for secure display
Made in America
Our 3x5' Nylon 21 Star flag is made of durable, lasting nylon with a white canvas heading and 2 brass grommets. Featuring 21 crisp, white and appropriately placed stars, this flag represents Illinois becoming one of the great states of our Union.
The 21 Star American flag became the official flag of the United States on July 4th, 1819 in regards to the admission of Illinois, who was granted Statehood on December 3rd, 1818. The only President to serve under this flag was James Monroe (1817-1825) and lasted for only a single year.
Carrot-Top Industries also carries the Illinois state flag in several materials and styles. Our outdoor styles are available in our exclusive Beacon® Nylon and Patriarch® Polyester materials as are our outdoor American-made United States flags. Along with Illinois outdoor state flags, we also offer complete indoor state flag displays and hand-held state flags which are ideal for parade use, children and as a giveaway item. For more information, please fill out our contact us form and one of our Customer Care Representatives will be in touch with you!