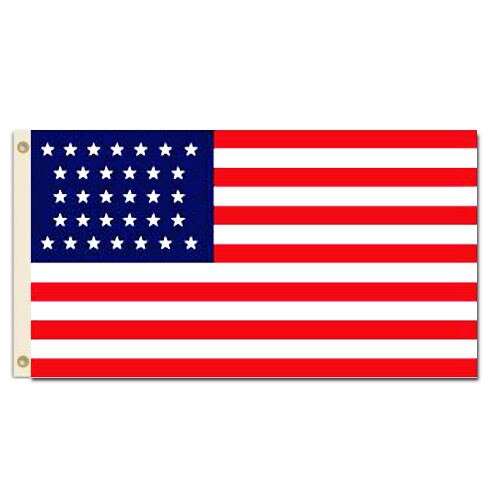 Details
3'x5' Nylon 32 Star flags are fashioned with strong nylon and beautiful colors that seems to sparkle in the sun.
These flag:
Are fashioned with superior 200 denier nylon
Measure 3'x5', conveniently fitting most flagpoles
Are finished with a strong canvas header and solid brass grommets
Dry quickly and resist the damages of rain, wind and sun
The 3'x 5' Nylon 32 Star flag became the Official flag of the United States on July 4, 1858. The star added to the flag celebrated and recognized the great state of Minnesota which was admitted to the Union on May 11, 1858 as the 32nd state. James Buchanan was the only President to serve under this flag. The 32 Star flag is still recognized by the United States and is never considered obsolete. Our 32 Star US flags feature reinforced seams and beautiful stitching. These flags look great anywhere.
Carrot-Top Industries takes great pride in providing the highest quality flags, custom products and patriotic items. No one knows more about flags than we do. Browse our US State and City flags, Historic U.S. flags and Historic International Flags and create the perfect display that that honors both the past and present. Our Historic lapel pins, Military lapel pins and U.S. flag lapel pins are great tokens affordably priced to share with others. Shop our American flags which include our exclusive flags, the Beacon® Nylon American flag and Patriarch Polyester flag, along with a variety of sizes and fabrics including mini American Flags. Carrot-Top offers a full range of Minnesota State flags in various sizes and fabrics. For greater details about our 32 Star US flag please fill out our contact us form and one of our Customer Care Representatives will be in touch with you!