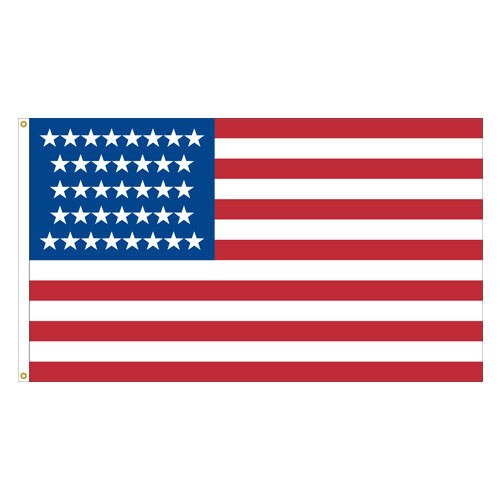 Details
The 3x5' Nylon 37 Star flag is made with great pride and is perfect for outdoor and indoor use.
Standard size for most residential and business flagpole displays
Lightweight yet durable and will accommodate light to moderate breezes
Canvas heading and grommets affords you a durable and secure flag display
Vibrant Old Glory Red and Old Glory Blue colors complete this historical flag with a modern style
Made in America
Our 3x5' Nylon 37 Star Flag features a crisp, white canvas heading with 2 brass grommets for ease of attaching to your flagpole snaphooks. Made of lightweight yet durable 200 denier nylon, this historical flag will last from season to season. Displaying correctly on one side and reverse on the other, your 37 star flag design will be easily seen from both sides with our great nations honored red, white and blue.
The 37 Star American flag became the official flag of the United States of America on July 4th, 1867. This new design was created in regards to Nebraska gaining admission to the Union on March 1st, 1867. The 37 Star flag lasted for 10 years and the 3 Presidents who served under this flag were: Andrew Johnson (1865-1869), Ulysses S. Grant (1869-1877) and Rutherford B. Hayes (1877-1881).
Along with the Historical Flags of the United States, Carrot-Top Industries is proud to offer American-made outdoor United States flags featuring our current, 50 star design. Available in our exclusive lightweight Beacon® Nylon and our more durable Patriarch® Polyester, we are guaranteed to have the United States flag and outdoor commercial or residential flagpole to fit your location and environmental needs. For more information, please fill out our contact us form and one of our Customer Care Representatives will be in touch with you!