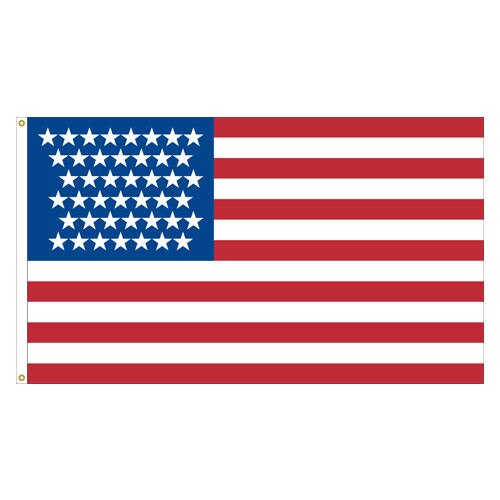 Details
Our 3x5' Nylon 43 Star flag displays the addition of 5 new stars denoting the receiving of 5 new states, North Dakota, South Dakota, Montana, Washington and Idaho, into our Union.
Long-lasting yet lightweight nylon provides a beautiful presentation
Standard sizing allows for quick and easy display
Perfect for celebrations of each of the 5 states who received stars that make up this design
Made in America
The 43 Star Flag is built from our quick-drying nylon and includes a durable canvas heading and 2 brass grommets for a sturdy, solid display. The sewn stripes and appliqued stars give a traditional, historical look with the quality finish of modern day construction.
With the admission of North Dakota & South Dakota(November 2nd, 1889), Montana(November 8th, 1889), Washington(November 11th, 1889) and Idaho(July 3rd, 1890) to the Union, the 43 Star United States flag became our official flag. This flag design lasted for only one year and the only President to serve under this flag was Benjamin Harrison (1889-1893).
With many different sizes and material styles available for each of these great states, we are guaranteed to have the items needed to complete your indoor and outdoor flagpole display. Ranging from outdoor flags in our Beacon® Nylon and Patriarch® Polyester to handheld state flags to help children celebrate events representing your state to indoor state flag sets for a professional, tailored look, all of your flag needs can be handled by Carrot-Top Industries. We take great pride in offering American-made outdoor United States flags constructed from the same attractively durable Beacon® Nylon and Patriarch® Polyester as our state flags. These flags pair perfectly with our outdoor commercial and residential flagpoles. For more information, please fill out our contact us form and one of our Customer Care Representatives will be in touch with you!