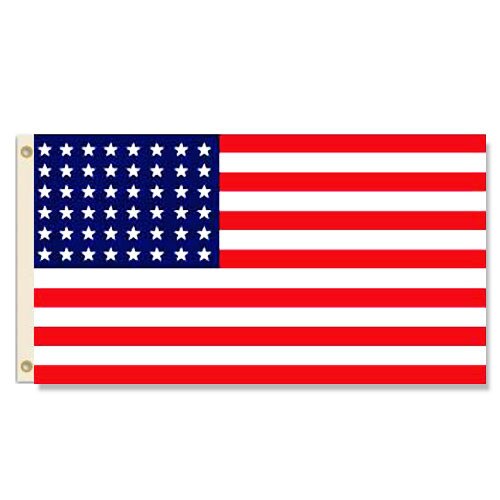 Details
Our 3'x 5' Nylon 48 Star flags recognize and honor the admission of New Mexico and Arizona with the addition of two stars.
Appliqued white five-pointed stars and intricately sewn stripes
3'x 5' size fits most flagpoles
A strong canvas header and brass grommets for easy installation and removal
A traditional look with a classic feel
Made in America
Our 3'x5' Nylon 48 Star flag creates dynamic displays that catch every one's attention and celebrate our nation's growth and progress. The flag weighs less than 2lbs. These flags are ideal for long term use in areas with mild to moderate winds.
The 48 Star American flag became the flag of the United States on July 4th, 1912. The flag honored the admission of New Mexico as the 47th state on January 6, 1912 and Arizona as the 48th state on February 14, 1912. This flag would serve the nation for 47 years.
Carrot-Top is proud to provide the highest quality patriotic products and flags. Pair your 48 Star US flag with the flag of your favorite or home US City and State. Our American flags are fashioned in several sizes and fabrics and include our exclusive flags the Beacon® Nylon American flag and the Patriarch Polyester American flag. Shop our collection of Historic U.S. flags and Historic International Flags for other great items to share and display. Carrot-Top is your best option for flags and more. We feature a complete line of both New Mexico State flags and Arizona State flags in various sizes and fabrics. For greater details about any Carrot-Top product please fill out our contact us form and one of our Customer Care Representatives will be in touch with you!