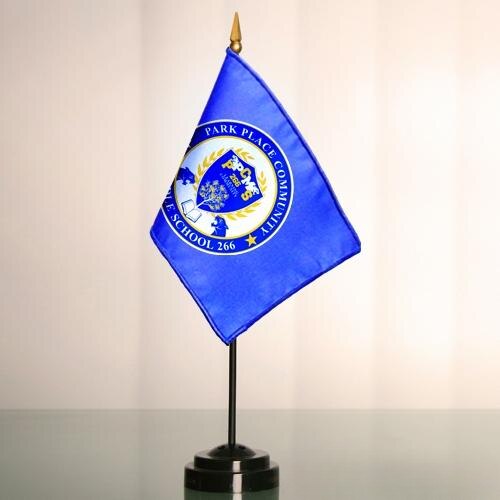 4" X 6" Custom Nylon Mini Flags (Minimum 125)
Details
Full Product Details of Our Custom 4x6 Inches Nylon Mini Flag:


Got an event coming up that you want to promote? Or just thinking about a memorable gift you can hand out? 4" x 6" Custom Nylon Mini Flags are a great idea!


Perfect for table top displays at conferences, job fairs and other events
70 denier nylon
Indoor or short-term outdoor use
Digital printing process penetrates color completely through nylon fabric
Single-reverse printing will read correctly on one side, reverse on the other
Minimum order of 50 flags
Proof provided before production
Made in the U.S.A.
See below for more information


Why Buy 4" x 6" Custom Nylon Mini Flags?


An order of 4" x 6" Custom Nylon Mini Flags is an ideal way to promote your brand, build excitement for an event or just get people to remember your organization. These handheld mini stick flags are a perfect size to use as custom desk flags, or to hand out at parades, political rallies or other occasions.


Almost any design can be printed onto these mini stick flags; due to their small size, though, tiny details may not be rendered clearly. A proof will be provided before production.


Please note that the suggested order size for 4" x 6" Custom Nylon Mini Flags is 125, although we can process an order for 50 mini stick flags. Smaller orders will be printed on a different machine and will not be hemmed on all four sides; however, all will be stapled to a 10" black plastic staff with gold spear top.


PLEASE ALLOW 2-3 WEEKS, AFTER FINAL DESIGN APPROVAL, FOR PRODUCTION AND DELIVERY OF THIS CUSTOM PRODUCT.


Explore Other Custom Flags From Carrot-Top Industries


Discover a world of possibilities with our custom flags collection. Whether for corporate branding, special events, or personal celebrations, we offer a wide range of options to suit your needs. Explore our extensive selection of custom flags, from mini flags to large sizes flags, and create a truly unique display. Take advantage of the opportunity to make a lasting impression. Browse our complete list of custom flags today and elevate your message to new heights!

Please fill out our contact us form and one of our Flag Pros will reach out to you regarding questions or rush orders!