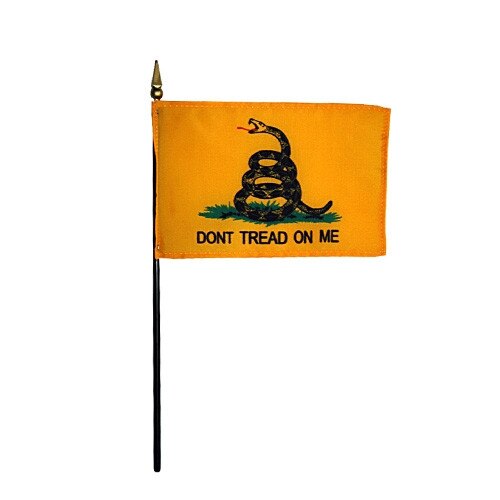 Mini Don'T Tread On Me Flag (Gadsden Flag) - 4" X 6"
Details
HOW TO ORDER CORRECT QUANTITY: QTY 1 = 12 FLAGS
Mark the nation's history and with our Miniature "Don't Tread on Me" Flag!
Perfect for gifts, souvenirs and giveaways
Poly-knit fabric is stapled to 10" black plastic staff, topped with a gold plastic spear
Digitally printed single reverse design shows correctly on one side, reverse on the other
Single stitching on all four sides
Made for indoor use

Proudly Made in U.S.A.
Why Buy 4" x 6" Mini Gadsden Flags?
The historical Gadsden Flag, often referred to as the "Don't Tread On Me" flag, was an early flag for the Continental Marines during Revolutionary times. The flag was designed by Colonel Christopher Gadsden of South Carolina; its distinctive design was revised into several different versions over the years.
Carrot-Top's 4" x 6" Mini Gadsden Flag is an ideal size for gifts or giveaways, and is available at a discount for bulk purchases.
Questions? Please fill out our contact us form and one of our experienced Customer Care Representatives will reach out to you!