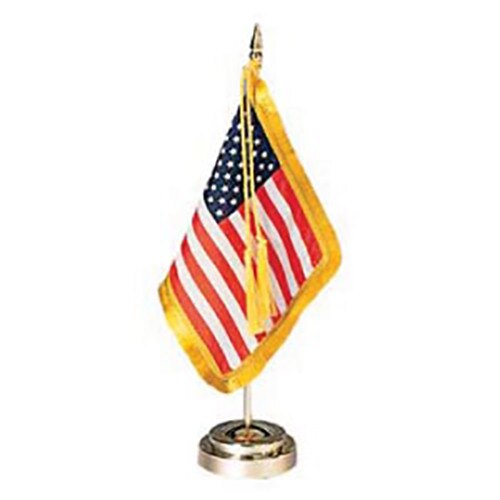 Envoy Table Flag Set With Base - 4" X 6"
Details
The Polyester envoy table flag set is one of our most durable mini flag sets. The envoy desk flag set features a polyester 4x6" flag with a gold fringe. Polyester flags are great for long term indoor use and are one of the more durable flag fabrics. The flag is mounted on a brass finish staff with a gold ornamental spearhead on top of the staff. The Envoy desk flag set also includes a gold cord with tassels that hang off the top end of the flag staff. The flag staff sits on a brass finish weighted base which holds the flag and flag staff in an upright display position.
The brass finish envoy table flag set is perfect for a mini U.S flag display in a professional, home or office setting. Its sleek brass finish adds a modern look to this flag set. The 4x6" polyester flag is attached to a brass finish 10"x 3/16" flag staff. The flag and staff assembly sits atop a weighted brass finish circular base with a diameter of 2.5" and a height of 1.25". The weighted base keeps the flag set balanced and upright on any flat surface. The envoy flag set is recommended for long term indoor use but is not well-suited for outdoor use.