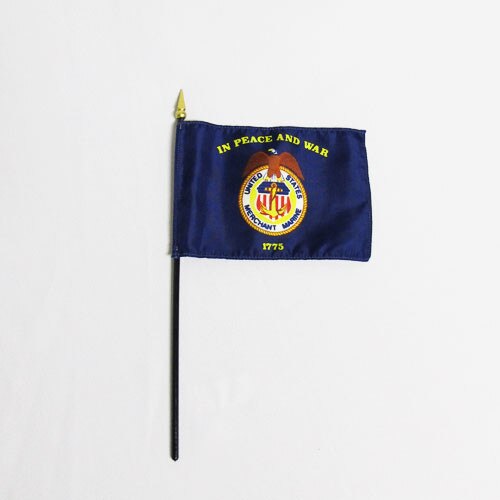 Mini Merchant Marine Flag
Details
HOW TO ORDER CORRECT QUANTITY: QTY 1 = 12 FLAGS
Mini Merchant Marine flags are a great option for special events and parades to celebrate the Merchant Marine Department. These hand held Merchant Marine flags can be given out to attendees at rallies or event celebrations for returning Mariners from duty or long trips.
Our mini Merchant Marine flags are exact replicas of the official large flags and feature the government specified colors and official insignia. For more information about these flags see the description tab below the product options.
The mini Merchant Marine flags are both inexpensive and extremely durable. These flags are made of a cotton/polyester blend and can be used in long term displays indoors and even outdoor for short term displays in dry weather. The handheld Merchant Marine flags come with a 10" plastic staff connected to the flag and finished with a gold ornamental spear top.
The mini Merchant Marine flags feature stitched fly ends to reinforce the extremities of the flag. The stitching prevents the ends from fraying or splitting. Mini flags are perfect for families and loved ones to hold and wave to welcome returning Mariners and to celebrate and show their pride for the service of the U.S Merchant Marines.