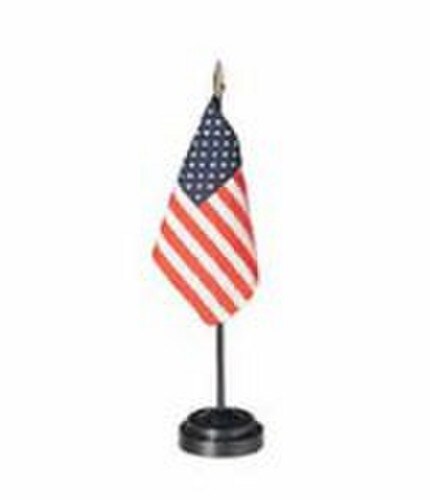 Polyester Diplomat U.S. Flag Set - 4"X6"
Details
The polyester diplomat U.S flag set features a 4x6" US flag is stitched ends on all four sides. The polyester flag also features printed stars and stripes and is attached to a 10" black flag staff. The US flag desk set also features a black stand to insert the mini polyester flag into. The black stand allows the desk set to be placed on any flat surface for an upright US flag display. For added effect the black staff is finished with an ornamental spear head on top.
The polyester diplomat U.S flag set is a great addition to your office desk or even as a patriotic ornament at home. The miniature flag featured in the Diplomat desk set is made of tough polyester, one of the strongest flag fabrics in the industry and is known for its longevity in harsh conditions. The flag is also stitched on all four sides to prevent it from fraying over time. The flag is attached to a 10"x3/16" black plastic staff that fits right into the plastic base.
The black round plastic base features a polished look and has a diameter of 2.5" and height of 1.25". The base is the perfect size to allow the flag to stay upright and balanced but not take up excessive amounts of room on your desk-top.
The Diplomat set is intended for long term indoor use and not recommended for use outdoors.