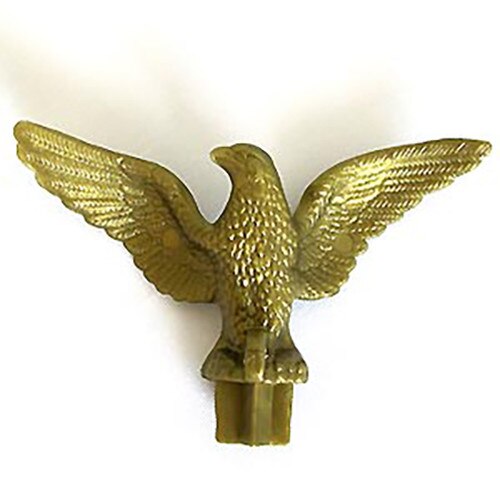 Plastic Eagle Flagpole Topper
Details
The plastic eagle flagpole topper is ideal for use with our aluminum poles ideally used on the side of a building. These flagpole toppers are featured in our American flag sets and can be used as a replacement part.
Like other eagle ornaments, the plastic eagle flagpole topper is ideal for a show or patriotism. Eagle ornaments have become an ideal pairing with American flags and state flags. For more information about the plastic eagle flagpole topper, see the description tab below.
The plastic eagle flagpole topper features a perched ornamental eagle with its wingspread to measure 5" in length. These eagle ornaments are intended for use with standard ¾" diameter poles. These plastic eagle toppers can be a great way to cap off your American flag display. Military and government flag displays often feature a similar eagle ornament to enhance the patriotic look of a flag display.
Carrot-Top houses a wide variety of products for all your patriotic, special event and custom needs. See our American flag collection which include the Beacon® nylon American flags and Patriarch® polyester American flags. These flags are of the highest quality and built to outlast all other flags. Our special event and facilities category houses industrial floors mats, waste receptacles and other products you might need for a special event of upkeep of a facility. Carrot-Top's line of custom products is unmatched. In addition to the great spread of custom products we also offer the services of several in-house, expert graphic artists capable of designing anything you need. For more information please fill out our contact us form and one of our Customer Care Representatives will reach out to you!