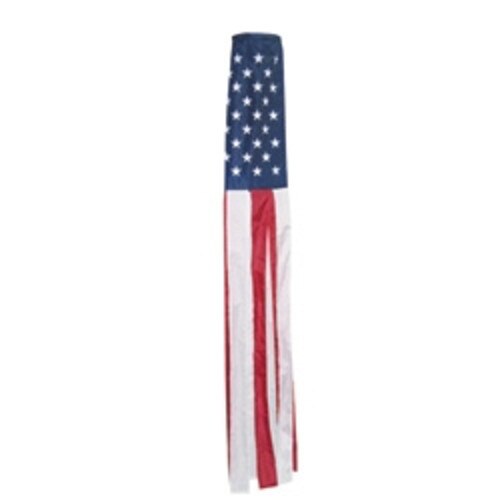 60" Patriotic Polyester Windsock
Details
Our Patriotic polyester Windsock flag will let your patriotism fly high in the wind. Constructed with our 100 Denier polyester, this decorative windsock flags displays the brightest and most beautiful colors and features 50 white stars on its head. Carrot Top's polyester Windsocks are designed with the highest quality materials and are able to hold up against daily damage from the sun. Our Patriotic Polyester Windsock flag will beautifully hang from any tree, porch, pole, or awning. For more information about our 60" Patriotic Polyester Windsock flag, please see the description tab below.
Carrot Top's Patriotic Polyester Windsock flag shows off your American pride with high flying style. Our Polyester windsocks display waves of bright patriotic colors and are perfectly suited to give your porch, balcony, yard, boat or garden a classic All- American look. The Patriotic Polyester Windsock features individual red and white stripes with double stitched ends to prevent fraying. This stitching along with our fade resistant fabric will prolong use and allow for a longer display. The head of the windsock mirrors the canton of US flag with white stars set in a field of blue. The Patriotic Polyester Windsocks measure 60"and come equipped for easy attachment for a classic display in your location of choice.
Carrot-Top Industries offers an assortment of patriotic décor and flags. Visit our collection of American flags, including our exclusive Beacon® nylon American flag and our Patriarch® polyester American flag. Carrot-Top also features a range of patriotic street banners to decorate your town or city's streets. For more information about our Patriotic polyester windsock or any of the products you see online Please fill out our contact us form and one of our Customer Care Representatives will be happy to get in touch with you!