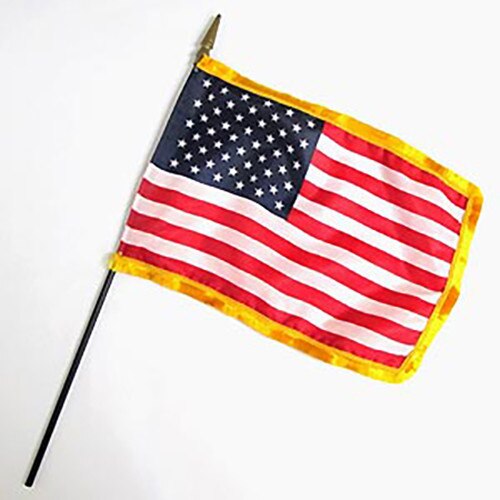 Mounted Polyester Fringed U.S. Flag - 8"X12"
Details
The Mounted polyester fringed U.S flags are great at special events. These flags are traditionally made for use in classroom setting for patriotic and historical events or National Holiday events. The 8"x12" Mounted Polyester American Flags feature gold fringe and come mounted on a black wooden staff with gold plastic spearhead. These polyester mini flags are excellent for any special event and are durable enough to be used for several occasions. You can even use the mounted fringed American flags at your next parade, rally or giveaway!
The mounted polyester fringed U.S flag is compact enough for easy transport and handling but is striking and elegant enough to be used at any special event. These flags are made of tough polyester material and feature a rayon gold fringe that complements the traditional colors of the American flag. Fringed flags are often used in parades and these are perfect to use as giveaways to people in a crowd or rally. These flags are also commonly used in schools and classrooms for special events or national holiday celebrations. The stars and stars and stripes on this flag are printed on and allow light to pass through unlike embroidered stars or sewn stripes. The gold fringe and printed design will ensure that everyone who catches a glimpse of this flag will take a second look at it!