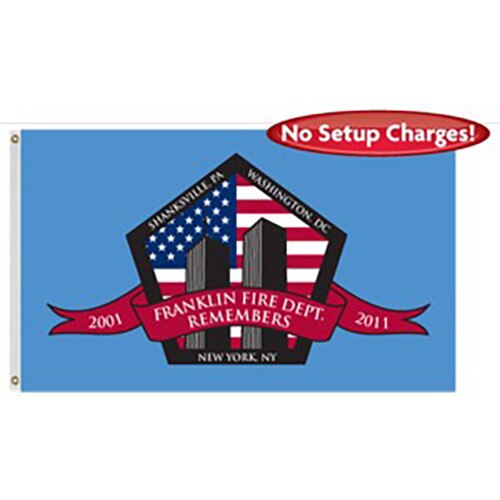 Details
Our exclusive Custom 9/11 flag is tailor made to show your respect for all the unfortunate victims of the tragic attack that happened on the 11th of September, 2001 in New York.
Add a line of text to be printed on the center portion of the red scroll featured in the fore ground of the graphic centered on the blue background. For more information about the custom 9/11 memorial flag see the description tab below. Standard production time is 2-3 weeks plus delivery.
The custom 9/11 memorial flags can be tailored to fit your business or even to remember a loved one who perished during the attack in 2001. The flags are digitally printed and your text can be added with ease to the center of the flag's red scroll in the foreground. A maximum of 50 characters can be added to the Custom 9/11 flag.
These flags all measure 3'x5' and are made of 200 denier nylon. 200-denier nylon is perfect for all weather use and ideal for use in wet conditions. Nylon flags have a sleek and shiny finish to accentuate the colors of the flag. The custom 9/11 flags are digitally printed to maximize its life and prevent fading for long term outdoor displays. The flags are also fitted with a strong, durable canvas header and brass grommets for attachment. These flags can be attached to any outdoor flagpole with the aid of a flag arrangement or flag hooks. For more information about the custom 9/11 flag or any of the products featured on this website please fill out our contact us form and one of our Customer Care Representatives will be happy to get in touch with you!