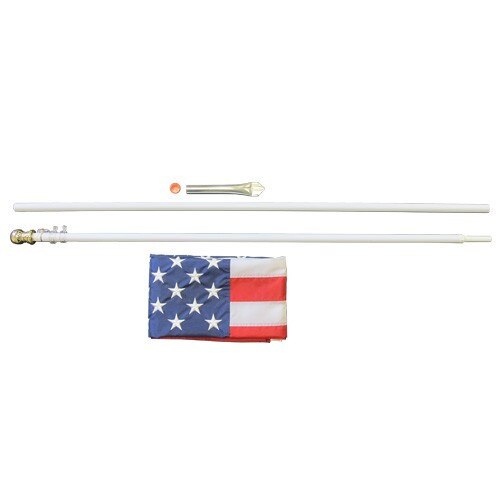 9' Spinning Flagpole and 2.5' x 4' US Flag Kit
Details
Our 9' Spinning White Flagpole and 2.5' x 4' US flag In-ground Kit is perfect for special occasions, promotional events or just showcasing your pride and patriotism for our nation. This 2.5' x 4' US Spinning Kit looks great in any location.
Designed for In-ground use on front lawns, in front of businesses, shops and other locations
Great for displaying any 2.5' x 4' nylon flag
In-ground kit includes:
- 9' x 1" White Aluminum Spinning pole
- 2.5' x 4' Beacon® Nylon US flag
- Two 1" plastic flag collars for secure flag attachment
- 1" Aluminum Lawn Ground SocketÂÂ
- Red cap prevents water from collecting in the In-ground socket when not in use
- Spinning Pole with ball bearings prevents flag from tangling
Easy to install, move or store
2.5' x 4' Beacon® Nylon Flag Proudly made in the U.S.A
Purchase your Tangle Free Flagpole Kit with 2.5' x 4' US flag now by entering a quantity. View our quantity discounts and breakdowns for great offers. Click the blue "Add to Cart" button and continue your order. For more information see the description tab below.
Why buy 9' Spinning White Flagpole and 2.5' x 4' US flag In-ground Kit?
The 2.5' x 4' US Spinning Kit contains everything you need to make a proud patriotic statement. This In-ground Kit includes a White 9' Spinning pole accented with gold ball top along with our exclusive 2.5' x 4' Beacon® Nylon American flag. The lightweight spinning pole is easy to install and comes with an aluminum ground socket. A red cap is also included to keep water out of the socket when the spinning pole is removed. Flagpole will display any 2.5' x 4' Nylon flag. Interchange your US flag with a 3' x 5' State or City flag. Kit is also great for tailgating and you can use any of our 3' x 5' College flags, 3' x 5' NFL flags or 3' x 5' NLB flags. Carrot-Top also provides US City flags and flags that honor our military and first responders.
For a smaller flagpole and US flag consider our In-ground 6' White Spinning Pole with 2' x 3' US flag. For more information, please fill out our contact us form and one of our customer care representatives will reach out to you!