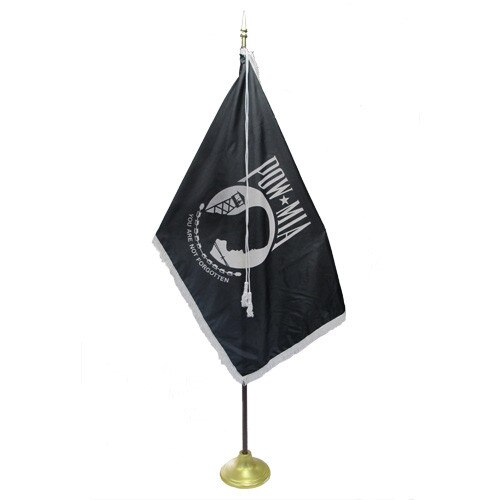 Brigadier POW Mounting Set
Details
Our Brigadier™ Indoor POW/MIA flag set combines some of our most exquisite elements to create a beautiful and dynamic display. This set is similar to others Carrot-Top offers; however, our Brigadier Flag Set uniquely includes the options of either a 7" Gold Aluminum ornament or the 8"Brass-Plated Round Spear.
This Brigadier ™ POW MIA Set features:
14lb. Heavyweight anodized floor stand which gives your mounting set a sleek and professional look
POW flag is 100% nylon, digitally printed and hemmed on all four sides
Flags are finished with a pole sleeve with tab and white fringe
Flag Sets are designed for indoor displays with the floor stand, parades and temporary outdoor use
Proudly made in the U. S. A.
The Brigadier™ High Quality POW/MIA Indoor Flag Set features high-quality finishes to match the honor and respect shown towards all United States Prisoners of War and those Missing in Action. Finished on 3 sides with a vibrant white fringe, the POW/MIA flag was originally designed in 1988. The care taken when constructing this flag and set will guarantee an unparalleled presentation for your ceremony, parade or event. Included with your purchase of this flag set is an 8' Jointed Solid Oak flagpole, your choice of the 8" Brass-Plated Round Spear or 7" Gold Aluminum Eagle, 9' gold cord with 5" tassel ends, the brilliantly-finished, cast-iron 14-lb. Endura floor stand and your expertly constructed 3x5' single-sided nylon POW/MIA fringed flag. We also supply a storage cover (AI599) that holds all items except the floor stand. Carrot-Top also includes Oak Pole Set Instructions with each Brigadier Flag Set.
In addition to supporting and remembering our United States Prisoners of War and those missing in action, Carrot-Top Industries also takes great pride in honoring all United States Veterans and the selflessness shown for total strangers while they fought and continue to fight for our great freedoms. Also available are military grave markers and cemetery marking flags to remember those who have made the ultimate sacrifice. For more information or to build your own indoor flag set, please fill out our contact us form and one of our Customer Care Representatives will be happy to get in touch with you!