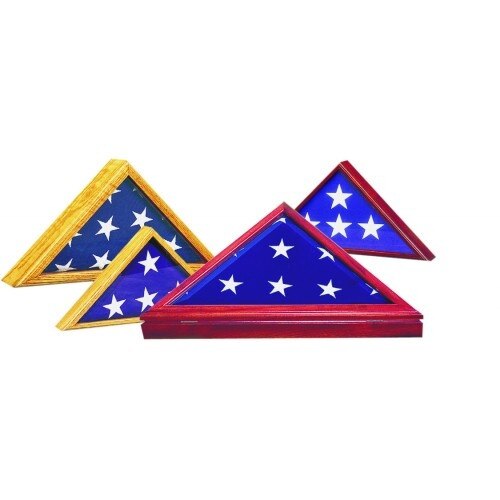 Flag Display Case Set (Flag Included)
Details
The flag display case set consists of a flag display case and an American flag to accompany that case. The flag case sets are available with a choice of finish. The cases with a light brown oak finish or dark brown cherry finish. You can also choose the size of the flag that comes with the flag display case set.
All of our flag cases are made in America. For more information and a detailed description about our flag display case set, see the description tab below the product selection options.
The flag display case set includes one of our high-quality flag cases with an American flag sized perfectly to fit. The flag case sets are available with either a 3'x5' American flag or Government specified American flag measuring 5'x9.5'. Both flag case sets feature a case with a removable back with turn-button closures and tempered glass front for an elegant display of your American flag. These flag case sets are ideal to place as a commemorative item on a mantelpiece or even hang on the wall. The flag cases come with fitted wall mounts for a vertical mounted display.
Carrot-Top proudly offers an expansive selection of Patriotic, Military and custom products. See our American flags of all sizes, which are well-respected for the highest quality in the industry. Our military and memorial products include military flags, POW MIA flags, Veterans items and Commemorative flags. Browse through our specialized grave markers and military seals to honor brave soldiers and Veterans. For further details, please fill out our contact us form, and one of our Flag Pro will be in touch with you.