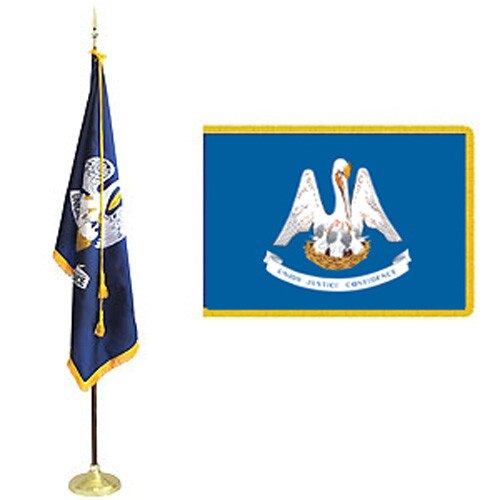 Details
Louisiana Flag sets are designed to allow you the freedom and flexibility to choose the display that best suits your location and best fits your tastes. Our Flag Sets offer options of flag size, flag pole and (pole) finish. Whether you prefer a traditional display or something more unique, Carrot Top's Louisiana Flag Sets let you match your current décor or craft an entirely new look. For more information about our Louisiana Flag Sets see the description tab below.
Our Louisiana Flag Sets are designed to meet and match the specifications of any room or space. Our exclusive 5-9' Majestic Telescopic Pole displays perfectly in most locations. This adjustable flag pole is easy to transport and assemble and has three finish options: Gold, Chrome, and Wood-Grained. Both the 3'x6' Louisiana flag and the 4' x6' Louisiana flag pair perfectly with our Majestic Poles and create phenomenal indoor and parade presentations. Carrot Top also provides a Jointed Oak finished flagpole for a more traditional display. The 8' Jointed Oak finished pole works best with our 3' x 5' Louisiana Flag in spaces with at least an 8.5 ' ceiling clearance. The 9' Jointed Oak Pole exhibits best with our 4' x 6' Louisiana flag in rooms with a clearance of at least 9.5'. Both flags are finished with a lined pole sleeve, a strong canvas header and plush, traditional gold fringe. All Carrot Top flag sets include a gold cord with tassel, an ornamental spear or eagle and a weighted base.
Carrot Top offers a broad range of patriotic products for everyday events and special occasions. Our American flags are some of the finest flags obtainable. The Patriarch® polyester American flag is built to withstand harsh weather condition and severe winds. Patriarch® flags have unmatched strength but feel like cotton. Beacon® nylon American flags are designed for milder climates and less severe winds. For more information, please fill out our contact us form and one of our Customer Care Representatives will be in touch with you!