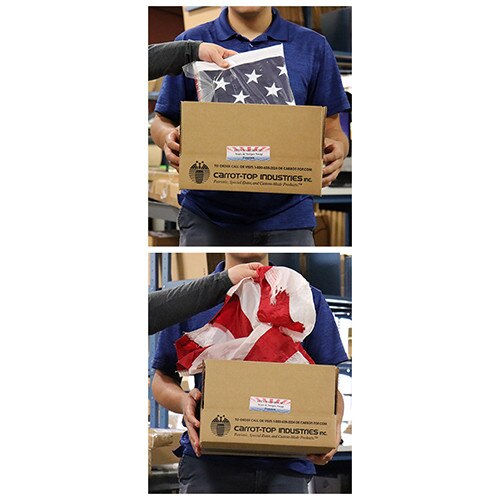 Stars & Stripes Flag Swap Service
Details
Full Details About Stars and Stripe Swap Services:


Our Stars and Stripes Program takes the guesswork out of retiring your American flag. For a small fee of $15, we will send you a pre-paid label that you can use to ship up to three worn American flags directly to our warehouse. Just box up your old flags and send them back to us, and we will ensure they are retired in compliance with the U.S. flag code!


Easy-to-use service
Eliminates the hassle of finding a proper disposal method
Ensures your old flags are retired respectfully
Clears out unused items from your storage

Why Use Our Stars and Stripes Service?
The average lifespan of an American flag is 90 days before it is no longer a fitting emblem of display. While Carrot-Top flags last much longer, even the highest quality material deteriorates from outdoor conditions. U.S. flag code states that a flag must be retired and destroyed once it is significantly faded, frayed, or torn. However, throwing an American flag in the trash violates the U.S. flag code. Flags stand for those who fought for and gave their lives to protect our liberties and rights, so they should always be treated respectfully. American flags must be burned and not simply thrown away.

Retiring your flag the right way can be challenging for businesses with limited time and resources. Some companies will place old flags in storage, taking up space until somebody can find a proper disposal method. With our Stars and Stripes Service, you can rest knowing your flag will be retired properly with minimal hassle on your part! When it's time to buy a new flag, add the Stars and Stripes Swap to your order, and we will send you a pre-paid label that covers the cost of shipping up to three old flags to our warehouse. Simply box up your flags and send them back to us; we'll take care of the rest!

Need a New American Flag?

Our American flags are made with the highest quality materials and feature embroidered stars, sewn stripes, and rust-resistant brass grommets for added durability. Carrot-Top has a wide selection of sizes in stock and ready to ship. Display your patriotism with ease whether you are a large business or consumer. Shop now and learn why our bestsellers are the highest-rated flags on the market!

Beacon® Nylon U.S. Flags

Our Beacon® Nylon American Flags create jaw-dropping patriotic displays in all weather. Made from lightweight material, these flags will fly high even in the gentlest breezes and dry quickly, so you don't have to worry about your flag hanging limply on its pole. Fly our Beacon® nylon flag if you live in an area with mild to moderate wind. This flag comes with a six-month guarantee and is available in many sizes 12"x18" to 50'x80'.

Patriarch® Polyester U.S. Flags

Do you live in an area with high winds and extreme weather? We recommend flying our Patriarch® Polyester American Flags. These flags are extremely heavy-duty and resist fraying and tearing in harsh localities like the coast, mountains, or open plains. Polyester flags come in sizes as small as 3'x5' and as large as 50'x80'.

Looking for a different style of the American flag? Shop our American flag category page for a full list of options and tips for choosing the best fabric, finish, and size. You can also learn more about disposing your American flag on our blog "How to Properly Dispose of Your American Flag?"

Carrot-Top: Helping You with ALL Your Flag Buying Needs

At Carrot-Top, we can help you ensure your flag display is nothing short of spectacular. From start to finish, we're here to assist you, whether you're shopping, looking for the right size, or navigating the flag code. By choosing Carrot-Top, you're not only getting top-quality products, but you're also supporting American manufacturers. Our American flags with the FMAA's "Certified Made in the USA" seal assure you that every step of production involves U.S. facilities and U.S. labor. Feel free to reach out through our contact us form, or explore our blog for answers to frequently asked questions. Trust Carrot-Top to provide the quality and assistance you deserve for your flag needs.