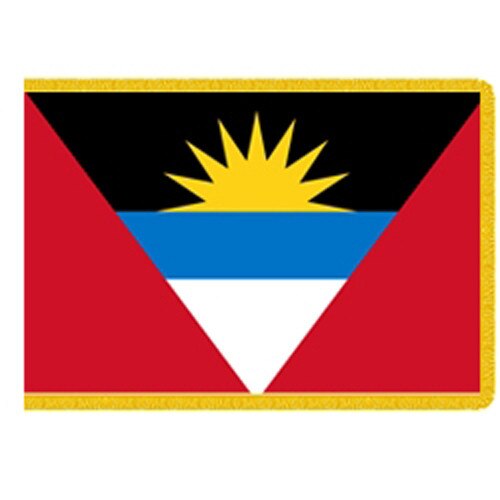 Indoor Antigua And Barbuda Flags
Details
Indoor Antigua and Barbuda flags create beautiful displays in your home, office, school, church or locations. These brightly colored flags showcase the triumph of Antigua and Barbuda and celebrate its hope for the future. Antigua and Barbuda Indoor flags are crafted with strong, durable nylon that looks amazing during parades or flying in the slightest breeze. Celebrate the beauty of Antigua and Barbuda with these finely crafted flags. For greater detail regarding Indoor Antigua and Barbuda flags click the description tab below.
Indoor Antigua and Barbuda flags are fashioned with a timeless style and regal beauty. These flags measure 3'x5' and are tailored with interwoven nylon, and bold, vivid colors that are sure to outlast other flags. Our Indoor flags also feature luxurious gold fringe around three edges are finished with lined pole sleeve that creates a classic and clean look. Let everyone know your heart belongs to Antigua and Barbuda with these finely tailored indoor and parade flags. Carrot-Top also supplies flagpoles and flag sets which allow you may create the best possible display for your Indoor flag.
Carrot-Top offers an almost unlimited assortment of flags, custom products and patriotic items. Be sure to browse our custom products section, as our skilled graphic artists are able to replicate your photos, images and logos onto custom flags, banners, and floor mats. For assistance ordering any Carrot-Top item please fill out our contact us form today!