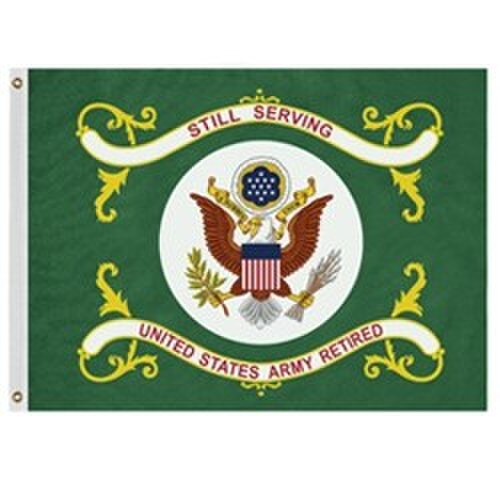 3' X 4' Army Retired Flag
Details
Army retired flags are used to represent individuals who have retired from the Army after 20 years of service. These Army retired flags are also used for individuals who have been permanently disabled due to military service. Proudly Made in the U.S.A.
Our Army retired flags are fitted with a header and grommets for use with outdoor flagpoles and measure 3'x4'. For more information, see the description tab below.
The Army retired flags feature a green background and the Great Seal in the center on a white background in the shape of a circle. Above the seal is a flowing ornate ribbon with the words "STILL SERVING" below the seal is a similar ribbon with the word "UNITED STATES ARMY RETIRED". The seal seen on the Army retired flag features an eagle with its wings spread, holding 13 arrows in one talon and an olive twig with 13 leaves in the other.
See all of our retired military products and Veterans products as well. Carrot-Top proudly offers many items to show your support for the U.S Armed Forces. These include official military flags, yellow ribbon flags and magnets and POW MIA flags. Also, see our top-quality American flags and indoor and outdoor flagpoles. For more information, please fill out our contact us form and one of our Flag Pros will be in touch with you!