Athletic Events
Expressing the excitement surrounding your school's athletic events will drive community participation and recognition. Today, most schools host athletic events such as games, parades, pep rallies, and fundraisers to spread school spirit and passion. With over 30 years of experience working with schools across the nation, we offer products guaranteed to instill pride in your students and local businesses.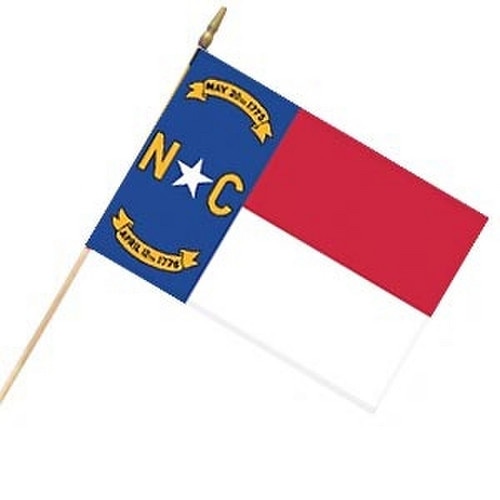 One of our best customers at Carrot-Top is the University of North Carolina at Chapel Hill. They're right down the road from us and always have new projects to challenge our creative staff. Because of our wide selection of products, we service a number of departments at UNC, but it's the work we've done for UNC Athletics that allows us to demonstrate our expertise and bring new ideas to the table.
Hanging from the rafters at the Dean Dome on UNC's campus are 49 jersey banners that honor the former basketball players from UNC. These appliquéd nylon banners are all provided by Carrot-Top and feature the durability and craftsmanship you'd expect from an American made custom product. On the football field, they encourage fans to get on their feet with our cheer runner flags. These oversized custom flags are digitally printed in full color, allowing your school to make an impact on game day.
In addition to traditional items such as flags and banners, UNC has worked with us to create unique products that highlight their athletes. To enhance the newly redesigned weight room at UNC, we created oversized wall decals to commemorate the Division 1 Sports Championships and other notable achievements across all sports. Since they are an affordable alternative to banners or flags, UNC can replace them each year with updated championships!
At Carrot-Top, we provide high-quality, custom made products to elementary, middle and high schools as well as colleges of all sizes. Use vibrant colors, your logo, mascot, school seal, or a motto such as "Colt Country" on our custom street banners to install on light poles or buildings around campus. Often schools use these banners to line the main street on campus or in the neighboring town. Attractive street banners add to the overall décor of your area and promote school pride.
Orange High School is another local school that uses us to help brand and promote their campus. They've bought custom mats to keep their entrance areas clean while welcoming students and guests. We also created a unique break away banner for their basketball and football teams to run through. You can see the break away banner at the top of this page and check out this awesome video featuring the Orange High basketball team!
Help your booster club grab attention by setting them up with one of our custom tents and table throws like Lancaster High School. Our 10' x 10' custom tents can have up to 8 imprint locations, giving you the flexibility to fit your needs. Because of our quantity discounts, you can buy in bulk and resell them to parents, students and alumni!
Don't forget our Custom Flags are the best way to fly your school colors at your football, baseball, softball, soccer and track fields. Our flags are available in several sizes and shapes, including the feather or teardrop options like Southview Elementary School's custom teardrop baseball flag.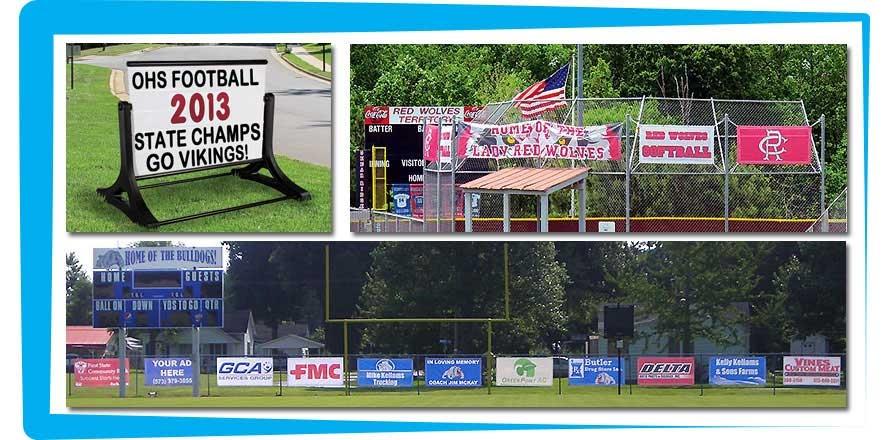 We offer many advertising solutions that allow you to market all athletic and fundraising events to your community as well.
Cedar Ridge High School uses our vinyl banners featuring bold colors to create a great atmosphere for their games. We've worked with schools of all sizes to outfit their stadiums and fields with professionally printed, custom made products that highlight their school and community.
If your school is looking for a way to make some extra revenue, get your local businesses to sponsor your sports like Portageville School District in Missouri. They placed each sponsor on a 4x8' vinyl mesh banner along the fence line near their end zone. We've worked with several schools and towns on sponsored banners, so give us a call (800.628.3524) and talk to an experienced customer service representative today who can guide you step by step through the process.