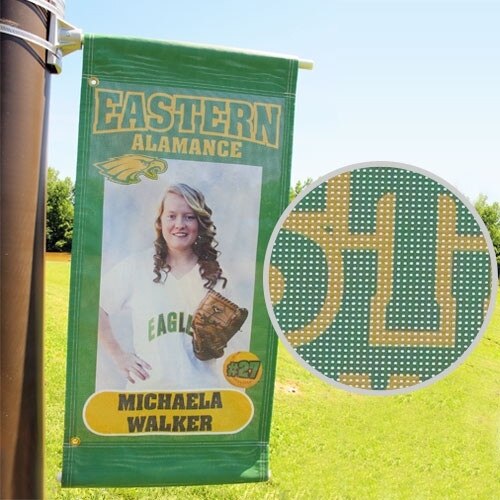 Custom Street Mesh Banner
Details
Full Products Details of Our Mesh Vinyl Banner:
Our custom street vinyl mesh banners are the best option to decorate your city, school, business, or any location that needs a new and affordable wind-proof banner. We can use your existing design, or our graphic designers can create a unique custom design for you. Carrot-Top's Digital 12 oz. street Mesh vinyl banners features:
Four easily installed sizes range from 17" x 36" to 30" x 84"
Super-strong, double-sided vinyl mesh printed with vibrant U.V. resistant inks
4" flat pole pockets and brass grommets at the bottom and the top
Intricate, reinforced stitching on the two sides and both pole pockets
Tailored and crafted for extended outdoor use (excellent for areas with high wind)
Proof provided before production
Made in the U.S.A.
See below for more information
Why Buy Our Custom Mesh Vinyl Banner?
Our industrial-strength custom mesh banner is one of the most versatile, functional, and customizable items we offer. These reasonably-priced, all-weather street banner signs work perfectly as city street banners, government building banners, school banners, business banners, parking area banners, trade show banners, retail banners, and more. Design these durable banners for city events, welcome signs, directional markers, advertising, or seasonal signs. Our mesh banners are printed with the longest-lasting and most colorful U.V. inks available in the industry. The unique construction of these banners features distinctive properties which allow them to withstand the strongest winds. The mesh design allows wind to pass through the banner and eases the tension on your banner hardware. A special block out is used on these street banners to enable your design to be seen and read correctly on both the front and back. Our digital printing process uses a high-resolution artwork file to create a sharp photo-quality finish.
Our Mesh Banner Sizes That We Offer:
Select the size that best suits your poles or display needs. Available sizes include: 17" x 36", 23" x 48", 30" x 60" and 30" x 84". Orders of larger quantities of vinyl mesh banners (for example, 25 or more) may have a longer production time. Banner Hanging Hardware for these street banners is sold separately. Please browse our Custom Main Street Banners for additional street banner options.
If you are considering a different fabric for your banner, view our custom outdoor vinyl banners
PLEASE ALLOW 2-3 WEEKS, AFTER FINAL DESIGN APPROVAL, FOR PRODUCTION AND DELIVERY OF ALL CUSTOM PRODUCTS.
Why Purchase Your Custom Banners from Carrot-Top Industries?
Carrot-Top proudly features the finest custom street banners, including an assortment of items that may be crafted with your organization, business, or town's logo, photo, or image. Our custom street banners are tailored to last and showcase vivid colors. Our graphic designers will create an attention-getting design that suits your style and needs. For further details, please fill out our contact us form and one of our Customer Care Representatives will be in touch with you.