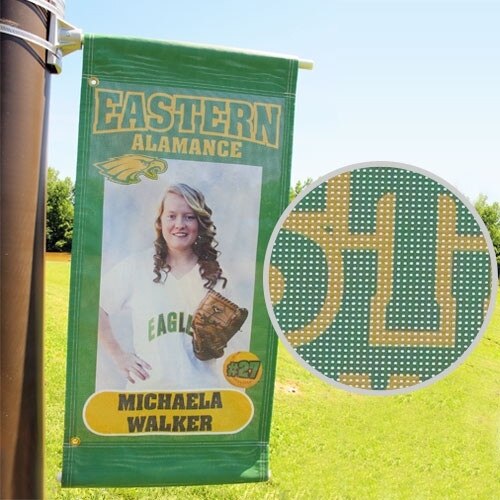 Street Custom Mesh Banner
Details
Full Product Details of Our Mesh Vinyl Banner:
Transform your streets into vibrant displays of color and creativity with our custom vinyl mesh banners. These banners add a unique touch to your cityscape and serve as powerful tools for promoting community spirit, boosting brand visibility, and announcing special events. Whether you have a design in mind or need help from our expert graphic design team, we're here to bring your vision to life. Crafted from super-strong, double-sided vinyl mesh, these banners stand tall against high winds, relentless sun, and the harshest outdoor conditions. Elevate your message with our custom mesh banners today and let your city shine!


Available in four flexible sizes: 17"x36", 23"x4', 30"x5', 30"x7'

Prints with vibrant, U.V.-resistance ink that stays bold and bright during months of prolonged sunlight

4" flat pole pockets and brass grommets at the bottom and the top

Intricate, reinforced stitching on the two sides and both pole pockets

Crafted for extended outdoor use (excellent for areas with high wind)

Made in the U.S.A.
Why Buy Our 12 oz. Custom Mesh Banner?
Discover the unmatched versatility of our industrial-strength custom mesh banners. These resilient banners, available at affordable prices, are your answer for many applications. Our banners fit seamlessly into any environment, including city streets, government buildings, schools, businesses, parking areas, trade shows, or retail spaces. Customize them for city events, directional markers, advertising campaigns, or seasonal displays.
What sets our mesh banners apart is their durability and wind resistance. Printed with top-tier U.V. inks, these banners boast vibrant, long-lasting colors. Their unique mesh construction lets the wind pass through, reducing tension on your banner hardware. Thanks to a special block-out feature, your design shines through clearly from both sides. With our high-resolution digital printing, expect a sharp, photo-quality finish that demands attention.

Order Your Custom Mesh Banner Today
Use this page to order your customer 12 oz. mesh banner. Someone on our Flag Pro team will contact you within 24 business hours to collect your logo, color, and application needs. An artwork charge will apply if you do not provide the logo in the correct format. Please see below for the artwork format requirements. Our Flag Pros will work hard to send you an initial proof of your project within 4–5 business days. You will coordinate with them until you are satisfied. Upon final approval of the project, we will begin production on your custom mesh banner. Expect your product's production and delivery to take 6–8 weeks.
In Need of Logo Design Assistance?
If you're seeking assistance with logo design, our dedicated graphic artists are at your service! Our talented designers and Flag Pros will collaborate closely with you to bring your vision to life so you can proudly display it on your city streets for months to come!
For those looking for design inspiration or templates, explore Carrot-Top's street banner gallery, showcasing our diverse designs from over the years.
Logo Conversion and Artwork Requirements
We can assist you in converting your logo to the optimal format for the highest printing standards and the sharpest appearance. We can even restore blurry or pixelated artwork!
Artwork Requirements for Digital Street Banners
For custom digital street banners, we require vector files. This means your artwork should consist of outlines, not pixels. Please convert all fonts used in the file to prevent font substitutions, which would occur if we do not have your specific font on our computers. If needed, we can accept font files.


We recommend using Adobe Illustrator CS3 and below for your artwork. If you have a higher Illustrator version, we suggest saving the file down before sending it to ensure proper loading. Accepted file types include .ai, .eps, and .pdf. Be sure to include Pantone colors if used for accurate matching.


In some cases, we can use Adobe Photoshop files if the artwork is at least 300 dpi resolution or higher and sized correctly for the product. Accepted file types include .jpg, .eps, and .pdf. Due to file size, you may need to send them via Dropbox or Google Drive.


Please note: Saving artwork as one of the recommended formats doesn't guarantee it's suitable for banner production. Our graphic artists will assess your artwork to ensure it meets the banner production standards before processing your order.


If you need the correct artwork format, our graphic artists are here to help. For a fee starting at $40 (more complex products may incur an additional charge), they can transform your logo or design into the proper format, ensuring your banner stands out with quality and uniqueness for your business.
FAQ About the Custom Mesh Banners
Have additional questions about our banners and the artwork approval process? Please read our FAQ before ordering.
1. Are the banners easy to install?
Yes, installing our custom street mesh banners is hassle-free. Each banner comes with grommets (metal eyelets) placed along the edges for easy attachment. You can secure them using bungee cords, zip ties, or ropes to fences, scaffolding, or other structures.
2. Can these banners be used for events other than street advertising?
Definitely! While they're ideal for street advertising due to their sturdy construction and visibility, these banners can be used for various events such as trade shows, festivals, sports events, and more.
3. What hardware do you recommend purchasing with these banners?
We recommend purchasing BannerFlex® Airow™ brackets for your street banners. This extremely flexible banner hardware can withstand winds up to 100mph for use in harsh weather areas.
4. How long will the banner last outdoors?
Our street mesh banners are designed for durability and can typically withstand outdoor conditions for one to three years, depending on the local climate and exposure to elements. Regular maintenance, such as cleaning and proper storage during extreme weather, can extend their lifespan.
5. Are there quantity discounts available for bulk orders?
Yes, we offer discounts on bulk orders. The exact discount will depend on the quantity you're ordering. You will be able to see the discount by increasing the quantity field. For more information, please contact our Flag Pros today!
6. What file formats are accepted for uploading designs?
We accept various common file formats, including .png, .jpg, .gif, .doc, .docx, .pdf, .tif, .ppt, .psd, ai. Make sure your design is high-resolution for the best printing results.
7. Can I see a proof of the design before finalizing my order?
Yes, we provide a digital proof of your customized design before proceeding with production. This way, you can review and approve the design to ensure it meets your expectations.
Purchase Your Custom Banners from Carrot-Top Industries!
Carrot-Top proudly offers the finest custom street banners personalized with your organization, business, or town's logo, photograph, or artwork. Our custom street banners are designed for lasting durability and are renowned for their vibrant, eye-catching colors. Our team of graphic designers is ready to craft a captivating design tailored to your unique style and requirements. To learn more, simply complete our contact us form, and one of our dedicated Flag Pros will promptly get in touch with you.