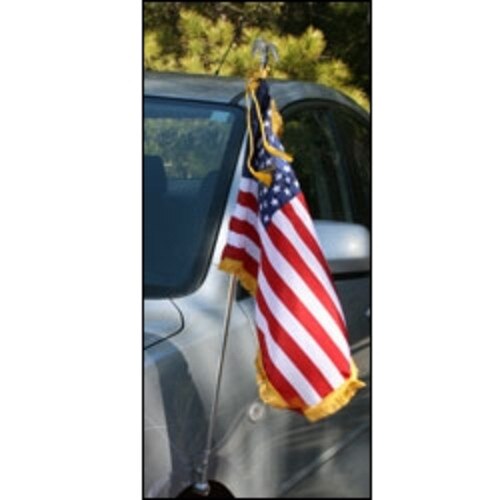 Details
The Auto Fender U.S Flag Kit is the perfect way to display your patriotic spirit on your car. The fender flag kit includes an 8" x 12" fringed U.S flag. The fender flag is attached to an aluminum flag staff that comes with a stainless steel base. The base attaches to your fender well or on the outside of your fender using a clamp system to firmly secure the fender flag kit to your car.
The Auto fender U.S flag kit is a small but stately flag display that is fit to be placed on any VIP's convoy! The 8" x 12" mini American flag included in the set is attached to an 18" rust resistant polished aluminum staff which holds the flag upright on the side fender of your car. The mini flag comes with a rayon gold fringe; fringed flags are often used by the government and military branches in special events or parades.
The auto fender flag kit also includes a polished stainless steel base which attaches the flag to the outside of the side fender or to the fender well using a clamp system. The stainless steel base is designed to withstand bad weather as well as dirt and grime from constant outdoor use. This flag kit is intended for use in outdoor settings for long periods of time. The Auto fender flag kits are designed especially for ceremonial use on cars moving at or under 15 mph. Use on fast-moving vehicles might cause the flag to detach from the car fender.