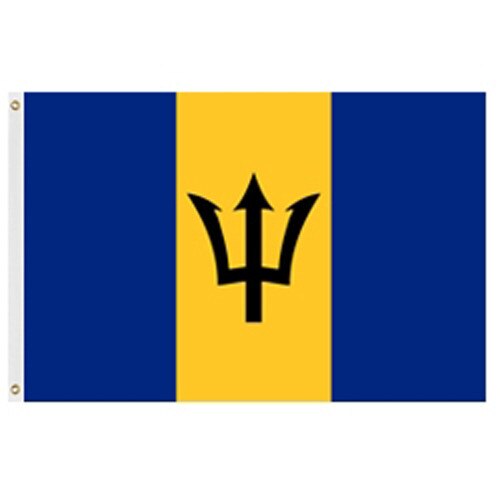 Details
Outdoor Barbados flags are crafted with strong, durable nylon and beautiful bright colors. These flags are fashioned in several sizes and are sure to create dynamic outdoor displays at your home, business, church, school or location. These flags dry quickly and wave beautifully in the slightest breeze. For more information about our Outdoor Barbados flags see the description tab below.
Outdoor Barbados flags are crafted with super strong, woven nylon sure to withstand any damage from wind, rain and sun. These flags are finished with a strong canvas header and brass grommets which make these flags easy to attach to your pole. Barbados flags are built with exquisite lock stitching and durable seams which resist fraying. Our Outdoor Barbados flags are available in five sizes: 12" x 18", 2'x3', 3'x5', 4'x6', and 5'x8'. Create an amazing display with these Barbados flags and anyone of Carrot-Top's many flagpoles. Carrot-Top offers the finest Outdoor Barbados Flags.
Carrot-Top supplies a broad array of products and services. Carrot-Top's American flags include our exclusive flags the Beacon® Nylon American flag and the Patriarch® Polyester American flag. For further details, please fill out our contact us form and one of our Customer Care Representatives will be in touch with you.