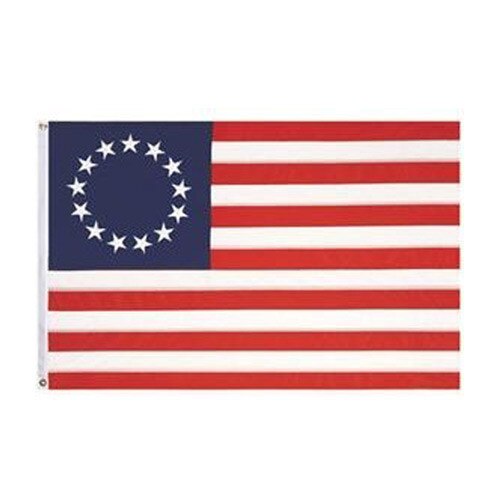 Embroidered Cotton Betsy Ross Flag
Details
Our Embroidered Cotton Betsy Ross flags showcase exquisite stitching, intricate seams and beautiful, bright colors. Carrot-Top's embroidered flags feature:
100% bulldog cotton
Beautifully embroidered and stitched stars and stripes
One convenient size: 3'x5'
Bold, bright colors that wave effortlessly in the wind

Made in U.S.A.

See below for more details.
Embroidered Cotton Betsy Ross flags are great emblems of American History. Carrot-Top offers a broad range of flags ranging from specialty and sports flags to Historic U.S. flags and Historic International Flags. Our American flags include our trendsetting and exclusive Patriarch Polyester flag and our Beacon® Nylon American flag. Buy our Betsy Ross Flag and show off your patriotism or delight the history buff in your life with a classic emblem of America's rich history. For more information about our Embroidered Betsy Ross flags, please fill out our contact us form, and one of our Flag Pros will be in touch with you!