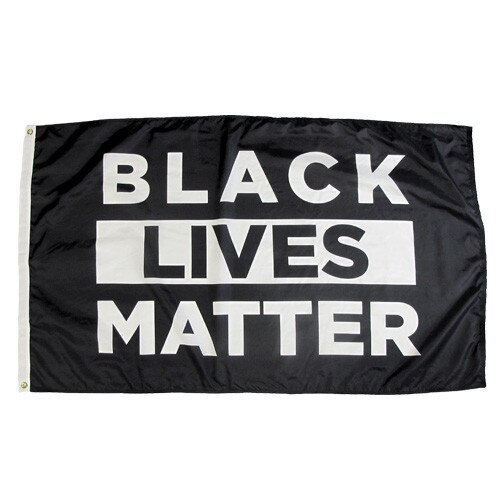 Details
Our Black Lives Matter Flags honor those who have lost their lives and those still struggling to bring about dignity, justice and respect for Black Lives in America. These beautifully constructed nylon flags are a great way to show community support while fighting for equality.
Display on a variety of flagpoles in areas with light to moderate winds outdoors or indoors
3' x 5' flag crafted with premium 200 Denier Nylon
Single-Reverse image on a black background with digitally imprinted logo in white
Finished with a strong canvas header and solid brass grommets
Flags reinforced with two rows of stitching on the hoist(header side), top and bottom of the flag (three sides)
Fly End features four rows of reinforced, lock stitching to resist fraying
Proudly Made in the U.S.A.
Support Black Lives Matter
The 3' x 5' Black Lives Matter flag is a symbol to give the people of this country a way to raise awareness for the necessity to engage in an open discussion about the injustices that so many Americans face due to the color of their skin.
The Black Lives Matter Movement is a chapter-based national organization working for the validity of Black lives. On July 7, 2016, President Obama stated the following when addressing this movement, "It's just being an American, and wanting to live up to our best and highest ideals. And it's to recognize the reality that we've got some tough history and we haven't gotten through all of that history yet."
Carrot-Top offers a broad range of American products, which include our 3 x 5 Beacon® Nylon American flag, and Mini Afro-American flags. For greater details about any of our products and services please fill out our contact us form and one of our Customer Care Representatives will be in touch with you!