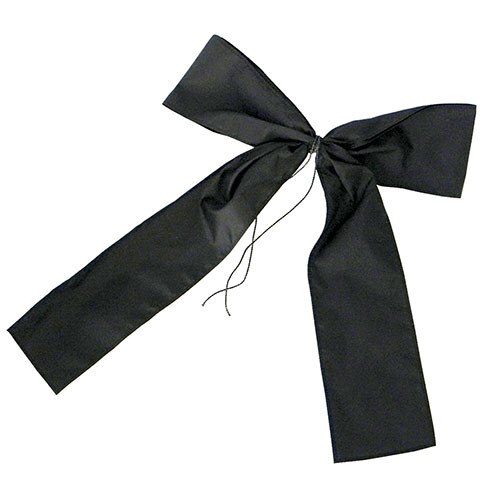 Black Mourning Bow (Black Ribbon)
Details
Our Black Nylon Mourning bow is a symbol of mourning when attached to the top of a flagpole. These bows offer an alternative for flagpoles that cannot have a flag flown at half staff
Black bows are 16" and constructed with superior nylon
Nylon Material is quick drying and tailored to resist fading
These black mourning ribbons are tailored for both indoor and outdoor use
Designed for use on residential outrigger poles, indoor mounting sets, etc.
Black Bows should be displayed at all times when flags are flown at half staff

Our nylon bows are made in the U.S.A.
Black Mourning Bows or ribbons are symbols of remembrance or mourning and are traditionally used for POW/MIA remembrance. Carrot-Top's Mourning Bows allow individuals, organizations and businesses to publicly mourn the loss of national heroes or to acknowledge and commemorate national tragedies or devastating occurrences. Our black nylon bows are designed for indoor displays and outdoor use. Ideally the bows may be used with flagpoles that cannot have a flag flown at half-staff such as with a residential outrigger pole or an indoor mounting set. This symbol of mourning may also be placed on the front of doors, on a tree or mailbox as a sign of remembrance, commemoration or grief. Black bows are also appropriate to display on national holidays like Memorial Day and Patriots Day.
Carrot-Top takes great pride in providing the highest quality patriotic, special event and custom products. Browse our military and memorial products for official military flags, grave marker and insignias, and flags and display cases and more. Our flags include American flags, US State and City Flags and World flags, all of which are tailored with the finest materials and detailed with superb craftsmanship. Our flags are available in all shapes, fabrics and sizes. For more information about any of our products or services please fill out our contact us form and one of our Customer Care Representatives will reach out to you!