Carrot-Top Helps Honor Veterans In North Carolina Town
Published on
July 7, 2017 at 6:16:00 PM PDT July 7, 2017 at 6:16:00 PM PDTth, July 7, 2017 at 6:16:00 PM PDT
At Carrot-Top, one of the things we're proudest of is being able to help communities with their town parks and memorials. Recently, we were able to do just that with Tyler Park in Dunn, NC.
Dunn is a town of about 10,000 people in the central part of the state; Tyler Park became the town's first community park when it was constructed in the late 1950s. Tyler Park now boasts three new athletic fields, tennis and shuffleboard courts, a splash pad water play area and a "miracle" sports field designed specifically for special needs children.
Over the years, Tyler Park has been renovated and improved on, and today a Veteran's Memorial Garden is the park's proud centerpiece.
"We completed the Veteran's Memorial Garden in April 2016," said Brian McNeill, Dunn's Director of Parks and Recreation. "The garden now features a center fountain, rose bushes, a POW monument, a monument to Blue Star Families and two monuments that honor General William C. Lee and his wife."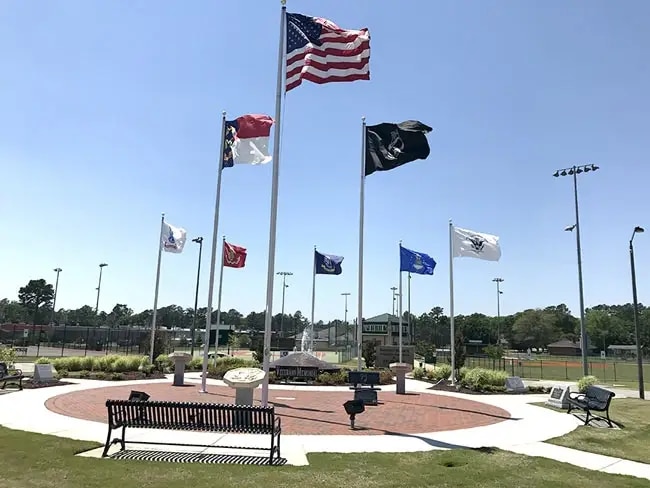 Lee was a Dunn native and a senior officer who fought in both World Wars. He commanded the 101st Airborne Division and was a leading proponent of airborne warfare. With his development of the unit and role in planning the Allied invasion of Normandy, Lee is often referred to as the "Father of the U.S. Airborne." He retired from the military in 1944 after a heart attack and returned to Dunn, where he passed in 1948.
Since the Memorial Garden's completion in 2016, it has been host to a number of events, including a grand opening celebration, a parade honoring General Lee and candlelight vigils.
Should you find yourself in Dunn and visit Tyler Park, you'll see American flags, POW flags and North Carolina flags from Carrot-Top in the Veteran's Memorial Garden, as well as flags that commemorate each branch of the United States Armed Forces. Carrot-Top has also helped out with flagpoles, solar lights, indoor U.S. and state flags as well as other products for Dunn's library, fire department, Chamber of Commerce, City Hall and police department.
If you have the same kind of respect and honor for the U.S. military as we do here at Carrot-Top, we invite you to have a look at our selection of military-related flags. We also encourage you to sign up for our email newsletter to find out about more interesting stories like this in the future!