MS Research Donation By Carrot-Top Industries Makes A Positive Impact
Published on
March 22, 2019 at 9:52:00 PM PDT March 22, 2019 at 9:52:00 PM PDTnd, March 22, 2019 at 9:52:00 PM PDT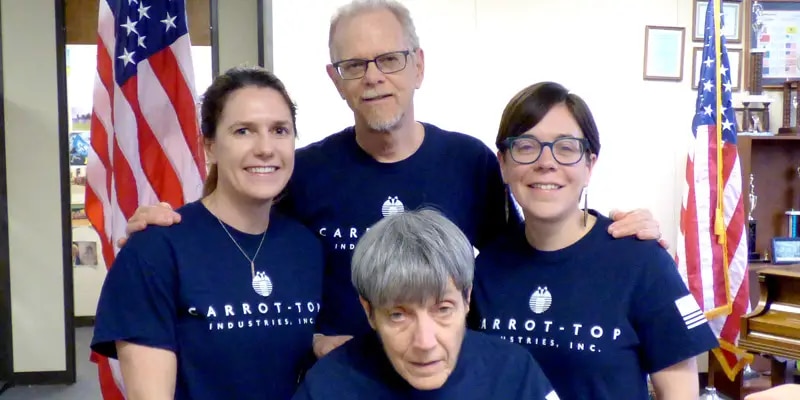 Carrot-Top Industries' continued success has allowed it to give back to the MS community through their annual donations to fund MS research. Carrot-Top's latest donation of $70,000 to the National MS Society will help improve the lives of those living with MS. Dwight and Lynne Morris launched Carrot-Top out of their Oak Park, IL, home in 1980, six years after Lynne was diagnosed with MS. The Morris family worked hard to provide flags and patriotic products to communities across America, and in 1987, Carrot-Top and the Morris family relocated to Hillsborough, NC.
"I wish to extend my thanks to the National MS Society for all the work over a course of many years that my wife Lynne has had to endure what is now advanced, secondary progressive MS since her diagnosis in 1974," said Dwight Morris, Owner and President of Carrot-Top.
"The National MS Society and their cause are very near and dear to my family and our company," said Liz Morris, Dwight and Lynne's daughter, and Carrot-Top Vice President. "We are happy and fortunate to be able to make this donation to fund MS research."

Carrot-Top hopes to continue providing American-made U.S. flags and patriotic, special event, and custom-made products to military institutions, service member families, government agencies, schools, businesses, and individuals across the United States. Bringing communities across America together while also supporting the MS community is the mission Carrot-Top Industries and the Morris family continue to fulfill.