Announcing Our Spring 2021 Beacon® Scholarship For Rural America Winner
Published on
March 1, 2021 at 2:10:00 AM PST March 1, 2021 at 2:10:00 AM PSTst, March 1, 2021 at 2:10:00 AM PST
Emma Kitchin, of Newland, N.C., is the recipient of the Spring 2021 Beacon® Scholarship for Rural America, a scholarship that was introduced by Carrot-Top Industries in 2018. We received applications from states across the country, including New Jersey, Tennessee, Michigan, Arizona and California. Kitchin is a shining example of community patriotism that continues to thrive in rural towns today.
The Beacon® Scholarship supports the American dream that every U.S. citizen should have an equal opportunity to achieve success and prosperity through diligence, perseverance and initiative, even if there are limitations due to the cost of education. The Spring 2021 Beacon® Scholarship awarded one student $1,000. Graduating high school seniors, current college students and adult learners with a GPA of 3.0 or higher who planned to enroll in an accredited college program applied. Applicants were required to reside in a rural area, meet low-income criteria and provide an essay about how they have shown patriotism through their community involvement.
It was important to Carrot-Top Industries that the scholarship winner met all of the requirements mentioned above while also showing clear goals for their future education and community involvement. While applicants showed their patriotism in their community in different ways, they were all determined to make a difference through volunteering, showing appreciation for those who came before them and ensuring their town has a better future through their service.
"We are excited to help rural, low-income students meet their educational goals so they can make a positive contribution to America's future. The Beacon® Scholarship celebrates the American dream of individuality, equal opportunity, hard work and determination," said Liz Morris, Carrot-Top Industries CEO and President.
Meet Emma Kitchin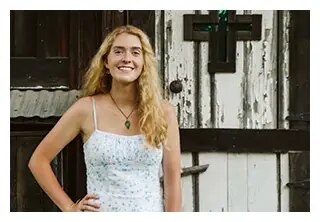 Emma Kitchin describes her hometown of Newland, N.C., as a "close-knit and supportive community known specifically for growing and selling Christmas trees." Newland is located in rural Avery County and Kitchin's favorite part about her town is "how the people come together so easily when there are people in need."
In Fall 2021, Kitchin will be attending Davidson College, in Davidson, N.C., working towards a bachelor's degree in psychology. After college, she hopes to get a therapist's license to help troubled youth with trauma and mental disorders. According to Kitchin, "My passion to help others and the environment motivates me. I lead through becoming a friend to those around me, and I use laughter and a shared goal to inspire others to work together."
According to Kitchin's scholarship essay, she shows her patriotism in her community by her demonstration of loyalty and dedication through such acts as:
Working with the local Key Club to volunteer with the North Carolina Boys' and Girls' Home annually to raise money for Christmas presents and taking time to raise money for Newland residents in need of food.
Working with the Environment Club she and her friends formed to advocate for a cleaner and greener town and encouraging their school system to switch from Styrofoam to stainless steel lunch trays.
Participating in environmental cleanups.
Tutoring students.
Providing neighbors in need with a warm meal or taking time to listen to a friend in need.
Helping her parents by waking up early to feed the animals each morning on their farm.
Here are excerpts from Kitchin's essay on patriotism:
I identify patriotism through the demonstration of loyalty and dedication. Whether it be advocating for a cleaner and greener town or singing and praying every year at my high school's steps on "See You at the Pole Day," I dedicate myself to not only this county but to its people as well. You cannot tell others that you care about your community and expect any sort of results. You have to show them and encourage them through your actions to create a better environment for everyone.
Avery County is my home because it is not only where my loved ones live, but it is where I have left a part of who I am behind here through my volunteer work, tutoring, environmental cleanups, farm work and friendships. Patriotism is defined as that unfading devotion and loyalty, so I can be comforted by knowing that I am patriotic for my home and for all who reside here.
Kitchin appreciates how much the Beacon® Scholarship will help her with her education. "I am a passionate girl determined to make a change for the better in the world no matter how big or small," said Kitchin. "I appreciate this scholarship and opportunity more than words can express. It will be used to fund my education through Davidson College as I work to become a licensed therapist helping heal youth with disorders and trauma."
If you know of any deserving students who would qualify for our Beacon® Scholarship for Rural America, have them visit /beacon-scholarship to apply.
Upcoming application deadlines for the 2021-2022 Beacon® Scholarship for Rural America are:
Fall 2021 Scholarships: June 30, 2021
Spring 2022 Scholarship: November 30, 2021