America's Tallest Flagpole – A Few Fun Facts
Published on
October 13, 2018 at 9:03:00 PM PDT October 13, 2018 at 9:03:00 PM PDTth, October 13, 2018 at 9:03:00 PM PDT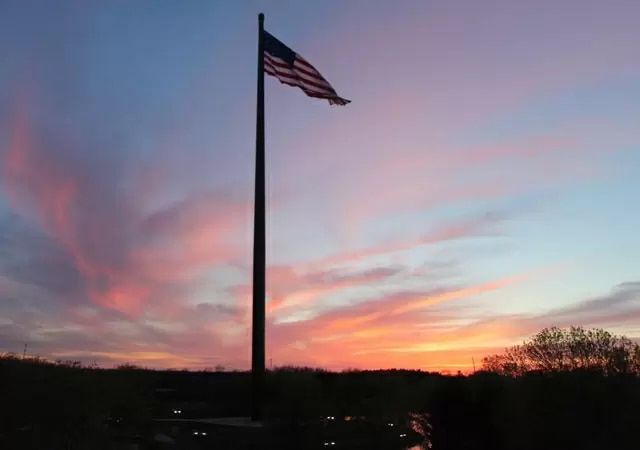 High above Sheboygan, WI is the tallest flagpole in the United States. The flagpole was erected in 2014 by Acuity Insurance, after their old flagpole toppled over as a result of years of stress and high winds.
Acuity's flagpole is 400 feet tall; not surprisingly, building such a huge flagpole is a major engineering challenge. Structural stability and maintainability have to be calculated carefully before the project even begins.
Here are some quick facts about Acuity's flagpole:
The flagpole is sunk into 680 cubic yards of concrete, in a 40' deep base
The flagpole's butt is 11 feet in diameter, tapering to 5 ½ feet at the top
Over 500 gallons of paint were used to cover the pole
Stands nearly 100 feet taller than the Statue of Liberty
To compensate for high winds, the flagpole is designed with three pendulum-style tuned mass dampers to reduce sway, movement and harmonic vibration
A 60' x 120' nylon flag that weighs 220 lbs. is usually flown, or a flag weighing 350 lbs. is used during inclement-weather. A 70' x 140' flag is also sometimes flown
Each star on the flag is three feet high, and each stripe is 4 ½' wide
The flagpole features LED lighting that makes it visible from 11 miles away
The flagpole's steel and base are designed for temperatures as low as -42 degrees F to withstand Wisconsin's harsh winters.
Erected in seven sections, the entire flagpole weighs approximately 420,000 pounds
At the base of the flagpole is a memorial for Sheboygan County residents who have lost their lives in the line of duty
Due to its great height, a flashing red beacon is mounted to the top of the flagpole
An automated hoist raises the flag at a rate of 80 feet per minute, regardless of wind, and is timed so that the flag will reach the top of the pole as the Star Spangled Banner ends
While being the tallest flagpole in American, Acuity's flagpole isn't the tallest in the world; that distinction goes to the 570-foot Jeddah Flagpole in Saudi Arabia.
While we don't offer a 400-foot model, we do have a wide variety of flagpoles in stock. Browse our Commercial and Residential Flagpoles to see what we have to offer for your home, business, or campus!