Tennessee State Flag History and Design
Published on
March 24, 2021 at 11:13:00 PM PDT March 24, 2021 at 11:13:00 PM PDTth, March 24, 2021 at 11:13:00 PM PDT
The History Behind the Tennessee Flag Design
Nicknamed as "The Volunteer State" because of the abundance of volunteer soldiers that it contributed to the War of 1812, Tennessee was the 16th state to be admitted to the Union by an act of Congress on June 1, 1796. In June 2021, the state of Tennessee will celebrate its 225th birthday. The upcoming Tennessee birthday celebration is also an ideal time to learn more about the history and the design of the state flag.
Throughout Tennessee's history, it had two official state flag designs as well as a third design that was proposed but abandoned. A legislative motion was made during the Civil War to use the Confederacy's "Stars and Bars" flag as the starting point for Tennessee's first-ever state flag design. In addition, the motion called for the Confederate national flag's circle of stars to be replaced by the Tennessee state seal. However, the Civil War-ear flag motion failed to gain majority support and was abandoned.
More than 20 years later, on May 1, 1897, Tennessee adopted its first official state flag design which featured: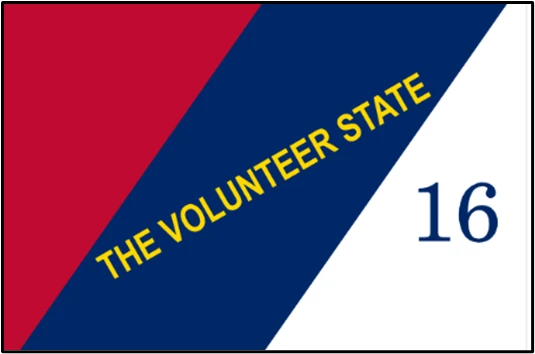 A background of three consecutive vertical stripes. Appearing in order from left to right, the colors of the stripes were: red, blue and white.
Both centered and slanted on top of the vertical blue stripe was yellow text that featured the state's nickname of "The Volunteer State."
A blue number "16," which referred to Tennessee being the 16th state admitted to the Union, was added on top of the vertical white stripe.
Because the 1897 flag design was not widely used, Tennessee sought to create a new design that would be more popular with its citizens. LeRoy Reeves, a member of the Tennessee Infantry's Third Regiment, created a dramatically different Tennessee state flag design. Reeves offered this explanation of his design:
"The three stars are of pure white, representing the three grand divisions of the state. They are bound together by the endless circle of the blue field, the symbol being three bound together in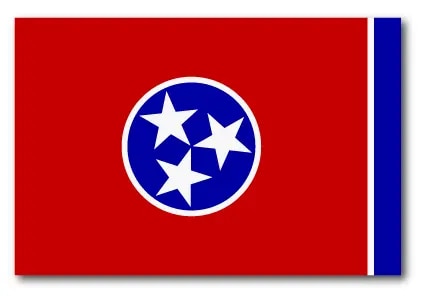 one — an indissoluble trinity. The large field is crimson. The final blue bar relieves the sameness of the crimson field and prevents the flag from showing too much crimson when hanging limp. The white edgings contrast more strongly the other colors."
Reeves' flag design was officially adopted by the Tennessee General Assembly on April 17, 1905. Unlike the original design of the Tennessee state flag, Reeves' 1905 design has withstood the test of time and it continues to be used today, more than 115 years after its approval.
Drawing upon more than a century of use, here are a trio of fun facts about Reeves' Tennessee state flag design:
Because the flag looks so similar when it is positioned either right-side up or upside down, it is often mistakenly flown upside down. So, how do you tell if the Tennessee state flag is properly displayed? Take a close look at the flag's stars. When the flag is correctly displayed (right-side up), the top star will be closest to the left side of the flag. When the flag is incorrectly displayed (or accidentally flown upside down), then the bottom star will be closest to the left side of the flag.
While the three "grand divisions" of Reeves' flag design description are generally understood to represent the three distinct geographical regions of Tennessee (its mountain region, its rolling hills region and its plateau region), some suggest that the three grand divisions may refer to the trio of Presidents who once called Tennessee home (Andrew Jackson, Andrew Johnson and James Polk) or to the fact that Tennessee was the third state to join the Union after the original thirteen colonies earned their statehood.
Tennessee's state flag design is one of two U.S. state flags (the other being Arkansas) to feature a red background.
Tennessee Outdoor Flag Options
Today, you can celebrate "The Volunteer State" and its 225th birthday by displaying your own Tennessee state flag. Carrot-Top Industries' outdoor Tennessee flags are made in the U.S.A. and come in two of Carrot-Top's exclusive fabric brands: Patriarch® polyester and Beacon® nylon. These flags are expertly crafted with unsurpassed quality by the most experienced flag makers in the industry. Our flags feature fade-resistant colors, durable fabric and fray-resistant stitching. Both the Patriarch® polyester and the Beacon® nylon outdoor Tennessee flags are digitally printed with a single reverse finish. Backed by the flag industry's best six-month guarantee, we are committed to your satisfaction. Our guarantee covers any defects, fading or tearing, starting on the date of purchase.
Our Patriarch® Polyester Tennessee flags are built with a super strong, two-ply polyester that has the texture and the feel of cotton. These flags are best for coastal zone locations and areas that frequently experience severe winds. Our Patriarch® Polyester Tennessee flags are available in a variety of sizes from 3' x 5' to as large as 5' x 8'. Our Beacon® Nylon Tennessee flags are tailored with tough, durable, lightweight nylon that dries quickly and waves beautifully in the air. These flags are designed for low and moderate wind areas and are available in sizes from 12" x 18" to 8' x 12'.
Tennessee outdoor flags, indoor flags, flag sets, flag banners and mini flags and are available for order online. To determine the best outdoor flag material for your location and flagpole, please call 800-628-3524 to speak with a Customer Care Professional. You can also submit any questions about your flag order by email or schedule a convenient time for a consultation through Contact Our Team. We offer fast shipping on all of our in-stock products.
Online References: Encyclopedia Britannica, Tennessee Secretary of State Website, usflags.design, U.S. News & World Report,VolunteerTraditions.com
1897 Flag Image from usflags.design
Email us at marketing@carrot-top.com to share your comments or questions about this blog. You may also email us if you have a topic you would like us to cover or are interested in submitting an article as a guest writer.